Isambard Kingdom Brunel was one of the greatest British engineers of the 19th century. His railways, bridges, tunnels and dockyards still stand as memorials, but his ship, the SS Great Britain, was his innovative masterpiece. When she was launched in 1843 her size, power and innovative technology, including the 1000HP steam engine driving a screw propeller, changed shipbuilding for ever. Built as a luxury passenger liner for the Great Western Steamship Company's transatlantic run from Bristol to New York, she had an illustrious history before being scuttled in 1937 in the Falkland Islands. In 1970 she was recovered by the SS Great Britain Trust and returned to Bristol as a museum to Brunel and his engineering vision.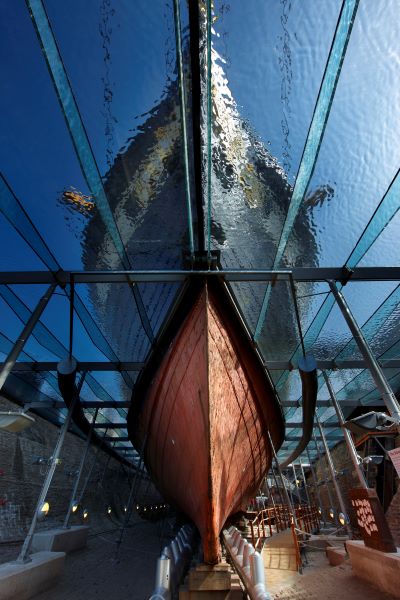 Challenge
When the SS Great Britain was recovered, her hull was badly corroded. The combination of water and salt accelerated the corrosion rate and the ship was at risk of complete destruction within a few years. A team of seven conservators took three years to complete restoration work. To prevent further rusting, the hull is encased in glass with dehumidified air (20% RH) continuously recirculated within the enclosure to keep the metal dry. Water flows around the glass casing from stem to stern, giving the impression that the ship is afloat and also acts as an insulating blanket. The water was filtered but became contaminated with algae, staining the glass and spoiling the visual impact for visitors. It also added many hours of maintenance labour to keep it clean. The Trust decided to upgrade their water treatment system and turned to Bristol based water treatment specialists Broadwater Technologies.

Solution
After reviewing the existing treatment process, Broadwater devised a programme of filtration and chemical treatment to control the chemical and microbiological quality of the water and to maintain the sparkle of the glass. Broadwater, a long-time partner of Evoqua, chose an Ezetrol® Touch controller, a state-of-the-art disinfection controller that measures free chlorine concentration, pH and temperature. This controls the speed of Evoqua VPP peristaltic, self-priming chemical metering pumps to control the water chemistry so as to maintain those parameters at their respective setpoints, and also to dose coagulant. The Ezetrol Touch controller has a 4.3" colour touch screen for truly intuitive operation and communicates via RS 485, USB and Ethernet interfaces and integrated Modbus TCP.
Broadwater's Gavin Foyle summed up the equipment: "The water system at SS Great Britain requires accurate, precise control and, when it comes to accuracy of measurement and control, the Wallace & Tiernan® brand instantly springs to mind. There was a lot riding on this project and the Ezetrol Touch controller and VPP pumps didn't let us down."

Before the equipment upgrade. After the Ezetrol® Touch controller & VPP pumps upgrade.

Results
Before the upgrade it wasn't possible to see though the glass plate, but since the upgrade, visitors now have this impressive view from above and below. Paul Harrison, Head of Technical Services for the SS Great Britain Trust is pleased with the new system. "The installation process was well-planned, professional and completed on time within the agreed budget", he says, "Since installation the system has been very reliable, consistently maintaining improved water quality and substantially reducing the amount of downtime that used to be required for cleaning purposes." The final word has to go to Gavin Foyle: "Providing a solution for such a prestigious piece of history in my hometown was an honour and one of the most rewarding projects I've ever worked on."