Wine-making is a thirsty and growing business. A single glass of deliciously dry Chablis or a fruity Carmenère can take up to 109 litres[1] of our precious water resources to produce. That's not only hard on the environment, but also on the pocket: water supply costs for irrigation and process, effluent surcharges and expensive equipment replacements means wine-makers are taking a good long look at available treatment processes.
Not only that, as the global clamour for wine grows louder[2], volumes must increase and manufacturers' infrastructure must expand to meet the demand. Process quality control and sanitation are of critical importance in delivering product excellence and water is an essential resource in this practice.
Cleaning-in-place (CIP)
The biggest threat to winemaking is contamination during the long production process—from harvest to tank to barrel to final bottling. Two of the highest risks come from the barrel treatment and from transferring the wine between tanks, steps which gradually create the unique blend of flavours sought.
To mitigate this risk, wineries adopt stringent measures to assure their CIP processes: cleaning and sanitising pump systems, pipes, tanks, barrels, hoses, filters and bottling lines.
While winemaking does require chemicals for some of its cleaning steps and sanitation, Evoqua's broad disinfection portfolio provides a range of disinfection solutions to enhance savings without compromising the quality.
Ozonated water is one of them.
Ozone - already an integral part of CIP sanitisation in the food and beverage processing industry - is an obvious choice for disinfection of wine process machines. Using ozone in the CIP process saves time and energy, especially when the system is automated and hot water steps can be reduced.
But not all wineries can afford automated solutions: manual CIP cleaning is still widely carried out and efficient. There are mobile solutions that can be moved from one tank to another and can offer good sanitation effects like the portable ozone cart.
Tank cleaning
The most important and frequent cleaning operation performed on closed equipment within the winery industry is the cleaning of holding tanks. These wine storage tanks are particularly susceptible to contamination and bacterial breeding as the wine is being clarified and moved from one vessel to another. This process is repeated several times throughout the year which means the need for water and cleaning agents is highly intensive.
When speaking about sanitisation, some wineries use traditionally hot water at around 80°C – 85°C (an expensive option) while others opt for interchange tank rinsing steps, again with ozonated water - mainly immediately prior to filling to make sure they are properly sanitised.
Evoqua's range of disinfection technologies for tank cleaning mean that wine-makers have additional options to run their production more efficiently, safely and sustainably.
Barrel cleaning
In the past, barrel cleaning and sanitation practices included the use of chemicals. Barrel sanitation was a trickier challenge because of the porous properties of oak and possible change in flavour profile of the wine due to chemical retention.
Today, this practice has changed. While chlorine, PAA and caustic are applied to the cleaning of equipment, the use of steam or ozonated water for barrel sanitation is widely adopted by the wine industry. Ozone offers higher sanitisation quality. It is the strongest oxidant available on the market that decomposes naturally into oxygen, without the harmful disinfection by-products of harsher agents. The wash with ozonated water is done by ambient temperature, which corresponds to energy savings.
Another benefit of the ozone treatment process is that it does not damage the interior nor reduce the useful life of the barrel. Ozone actually enhances the usage of the barrels by preventing organic build-up that shortens their lifecycle and does not interfere with the desired flavour compounds. Where once a significant percentage of wine barrels would be replaced every year due to contamination and deterioration, ozone washing saves considerable spend on replacing contaminated barrels, reducing overhead costs and increasing production flexibility.
Evoqua understands the importance of disinfection and sanitisation in the wine-making business, and offers ozone solutions as part of barrel-washing 'best practice'. Many wineries use Evoqua's portable ozone systems in applications that include barrel washing, tank and transfer piping sanitation; others integrated our complete packed systems or the generators to the automated clean-in-place (CIP) process.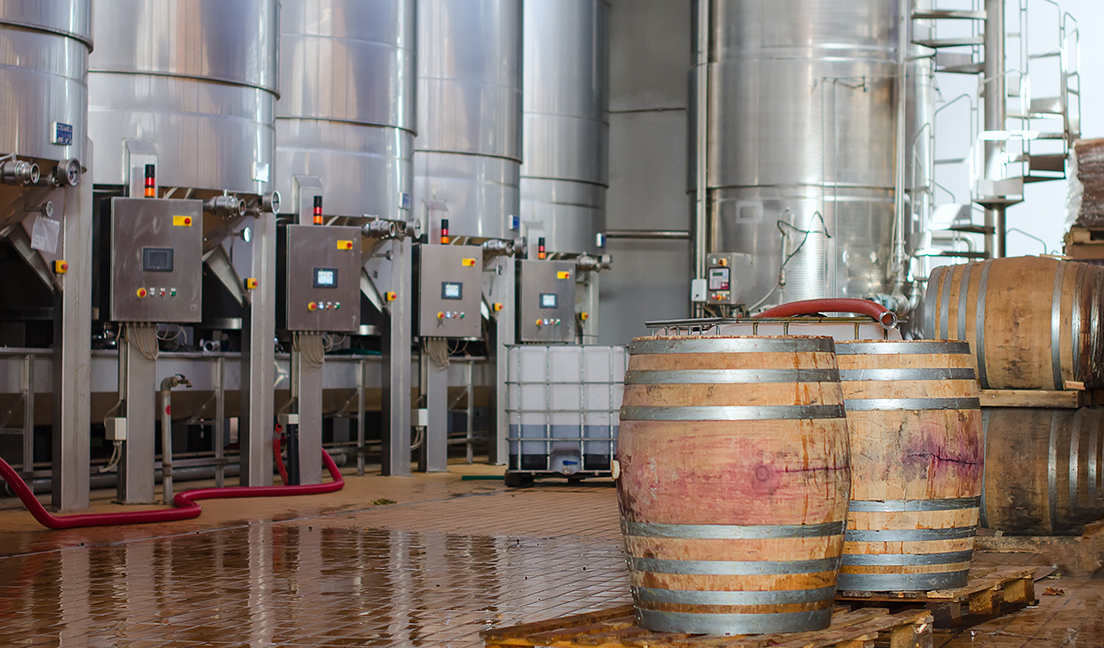 [1] https://www.theguardian.com/news/datablog/2013/jan/10/how-much-water-food-production-waste
[2] https://www.mordorintelligence.com/industry-reports/wine-market