Metal finishing and related processes require a substantial amount of water for cleaning and rinsing to remove contaminants and prepare parts for subsequent operations. Manufacturers are also subject to effluent limitations for the discharge of these wastewaters and rinsewaters with contaminants such as cadmium, chromium, copper, lead, nickel, and zinc, which typically require removal prior to discharge.
Wastewater recovery and water reuse in metal finishing and critical cleaning applications can significantly reduce or even eliminate wastewater discharge in some cases, ensuring compliance with effluent regulations and reducing environmental risk. It can also address issues with local water restrictions and water scarcity in areas with limited availability. By recycling and reusing water, metal finishing facilities can safeguard their production process from water-related challenges as well as raise their sustainability profile.
What is smart wastewater recovery?
Smart wastewater recovery digitally connects an ion exchange water treatment system with remote monitoring and predictive data analytics for recovering and recycling process water. Key performance data is collected, such as feed and effluent water quality, flow rate and volumes, and tank exhaustion levels to ensure water quality specifications are met. The data is continuously analyzed using machine learning to quickly identify and resolve potential issues before they occur.
How does this help metal finishing manufacturers improve production uptime?
This technology is beneficial on several different levels, from maintaining consistent process water quality to optimizing production uptime. Since the water treatment system is digitally connected and monitored, there is no need for facility personnel to frequently check the treatment system, freeing them up to focus on production. Water quality is maintained using pre-determined parameters and any deviations are quickly detected and resolved.
Manufacturers can also realize full asset utilization through data analytics and monitoring to ensure ion exchange tanks are fully exhausted before being exchanged. Access to operational data provides insights into water use and changes in process water quality at the facility. In total, smart wastewater recovery streamlines water management and ensures maximum production uptime.
What specific applications can benefit from smart wastewater recovery?
Smart wastewater recovery is optimal for non-hazardous process water recycling applications in the aerospace, metal finishing, microelectronics and general industrial arenas. The most common applications are cleaning and anodizing rinses, printed circuit board manufacturing and cleaning rinses and other critical rinses such as those found in medical products manufacturing.
What technology solutions are available?
Evoqua's Water One® WX service is a digitally enabled wastewater recovery solution that combines wastewater ion exchange (WWIX) water recycling treatment with 24/7 remote monitoring, predictive analytics and proactive service to ensure your recovered water quality always meets your specifications.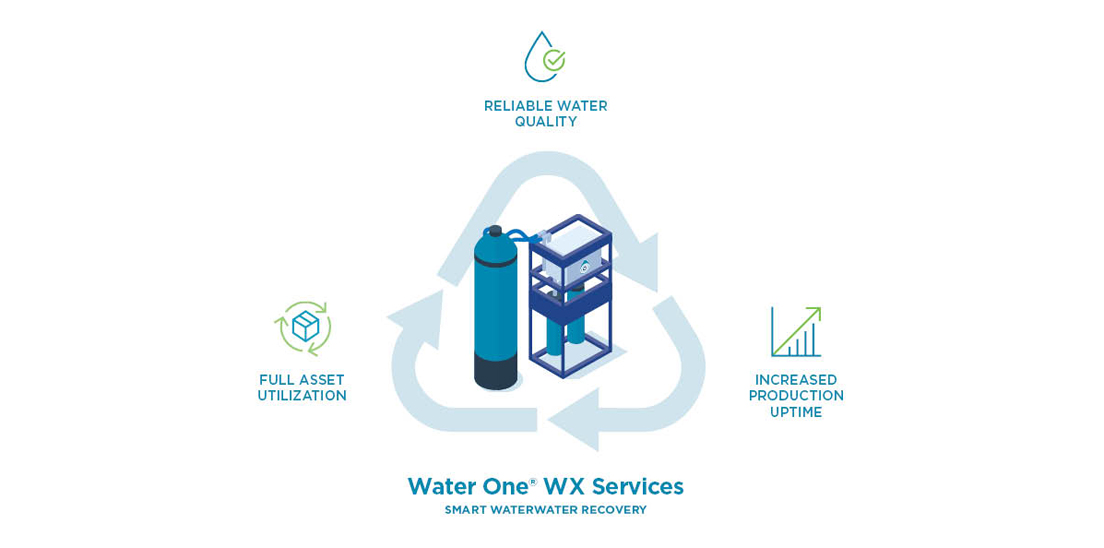 The heart of the Water One WX system is a standard monitoring, control and communications panel that measures and logs various water quality parameters. System performance is monitored 24/7/365 via Evoqua's Link2Site® remote monitoring platform which sends alerts for leaks, tank effluent quality, flow restrictions and tank exchanges. Evoqua's AQUA pro service team responds quickly to address alerts or schedule tank exchanges.
The Water One® WX service also provides data-enabled insights to proactively identify and resolve water quality issues before they impact production. This accelerates troubleshooting root cause analysis and keeps your facility operating at top performance.
Case study example
A printed circuits manufacturer with an 80,000 square foot facility in the Midwest U.S. was experiencing several challenges with detecting disruptions in their treatment processes, while also striving to streamline operations, reduce costs, and maintain high product quality.
Evoqua evaluated the application and recommended Water One® WX Services to monitor key performance data and provide insights to optimize productivity. After the installation, we were able to identify a key water quality disruption at the same time every day. This information helped the manufacturer to uncover a manufacturing process issue and take immediate corrective action to prevent future disruptions.
The result was a more streamlined process with significantly improved production quality (a full percentage point decrease in rejected parts). The manufacture was able to minimize resource wastage, reduce costs, and improve operational efficiency. Read the full case study.
What are the next steps?
Contact us to discuss your application and to find out if wastewater recovery is a good fit for your facility. We will schedule a site survey to review your water needs and obtain necessary water samples to ensure your operation is compatible for non-hazardous recycling.
About the author
Chris Riley, Technical Services Director, WWIX, Evoqua Water Technologies | Xylem
Chris Riley is the Technical Services Director for the Wastewater Ion Exchange (WWIX) business and is responsible for directing technical support activities for customers as well as supporting WWIX media regeneration and quality operations.
Prior to joining Evoqua, Chris held environmental engineering roles in the electroplating and environmental consulting industries where he worked in the areas of wastewater treatment and operations support, environmental auditing and process waste minimization.
Chris has over 35 years of experience in the industry and is a registered professional engineer. He also holds a bachelor's degree in chemical engineering from Michigan Technological University, and a master's degree in civil (Environmental) engineering from the University of Minnesota.