HP Hood LLC is one of the largest dairy operators in the United States with 13 plants across the country. It has been producing high-quality, delicious dairy products for more than 160 years.


Challenge
In order to keep pace with consumer demand, HP Hood has invested significant capital to increase production capacity at its Winchester, Virginia, USA, plant. ADI Systems designed, built, and commissioned the original wastewater treatment system for the plant, which included a low-rate anaerobic ADI-BVF® reactor, sequencing batch reactor (SBR), spill tank, and equalization tank.
Years later when another planned production increase at the plant necessitated an expansion of the treatment system, ADI Systems was selected to design/build a second BVF® reactor and SBR to operate in parallel with the existing reactors.
But business showed no signs of slowing down for the dairy company. As HP Hood continued to grow, it carefully investigated wastewater treatment options for yet another expansion project at its Winchester plant.


Solution
The original wastewater treatment system at HP Hood performed so well—even while overloaded—that HP Hood once again chose ADI Systems to accommodate its most recent increase in production. ADI Systems was contracted to upgrade its wastewater treatment system to include:
New 3.44 MG (13,020 m3) insulated concrete anaerobic BVF reactor
1.0 MG (3,785 m3) SBR (retrofitted from an existing 1.05 MG [3,975 m3] BVF® reactor)
Effluent equalization tank (retrofitted from an existing 190,000 gal [719 m3] SBR)
Waste sludge storage tank (retrofitted from an existing 230,000 gal [870 m3] SBR)
The new BVF reactor works in parallel with the existing 1.23 MG (4,656 m3) BVF reactor. The SBR aerobically polishes the BVF reactor effluent, and the effluent equalization tank attenuates effluent flow to the sewer. The waste sludge holding tank provides HP Hood with additional flexibility for handling and disposing of anaerobic and aerobic waste sludge.
The BVF reactor anaerobically removes over 90 percent of the influent chemical oxygen demand (COD) load, converting organics to a significant volume of biogas. The upgrade also includes a new biogas transmission and flaring system dedicated to the new BVF reactor. All work was delivered on a design/build basis.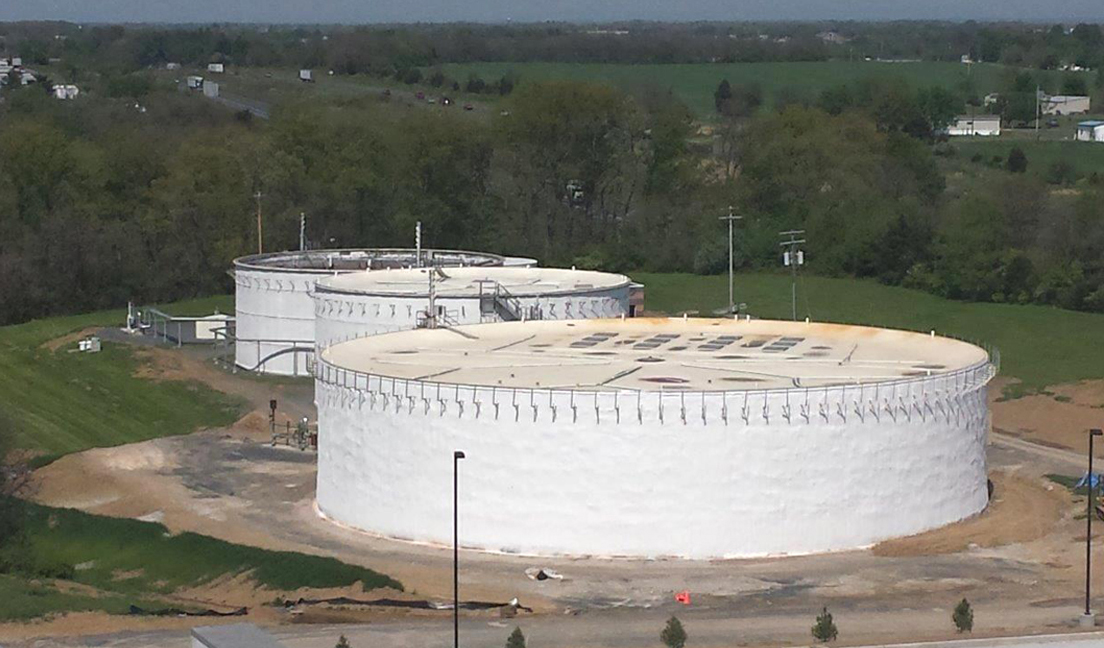 Results
ADI Systems and HP Hood continue to maintain their long-standing relationship, working together to achieve environmental sustainability through responsible wastewater treatment.
The upgraded wastewater treatment system is easy to operate and offers a high degree of process stability. The system provides a 46 percent increase over HP Hood's previous average design flow, while still allowing the dairy company to meet the publicly owned treatment works' discharge limits for biochemical oxygen demand (BOD) of 800 lb/d (363 kg/d) and total suspended solids (TSS) of 550 lb/d (259 kg/d).