Oland Brewery, owned by Labatt Breweries of Canada, is the largest brewer in Nova Scotia, Canada. The Halifax-based brewery has been in the community for more than 150 years​ and brews 16 million dozen bottles of beer each year. It produces 15 different brands, including Alexander Keith's, Budweiser, Bud Light, Labatt Blue and Oland Export.​


Challenge
Increased discharge surcharges and newly imposed limits on wastewater strength prompted Oland Brewery to rethink its treatment strategy. The company wanted to be environmentally responsible, so it investigated on-site wastewater treatment options.
Since the brewery is located in close proximity to neighboring buildings, space limitations were very influential in the brewery's technology selection. Oland Brewery was particularly interested in anaerobic digestion, as this type of technology could allow the brewery to make use of renewable energy. ​


Solution
After a competitive process that attracted attention from around the world, the ADI® external circulation sludge bed (ECSB)​ was selected for the project. Evoqua's ADI Systems designed and built Oland Brewery a turnkey biological treatment system (BTS).
The ECSB is a space-saving anaerobic process that uses granular biomass to treat wastewater. Following treatment within the ECSB system, aerobic polishing, solids removal, and sludge dewatering occur. The anaerobic digestion process produces valuable biogas that is used in the brewery's boiler.
In order to minimize congestion in the busy urban area during construction, the ADI Systems team coordinated the arrival of the tanks, some of which stand 22 m (72 ft) tall, to arrive after nightfall. The system is the perfect technology fit for the cramped site. ​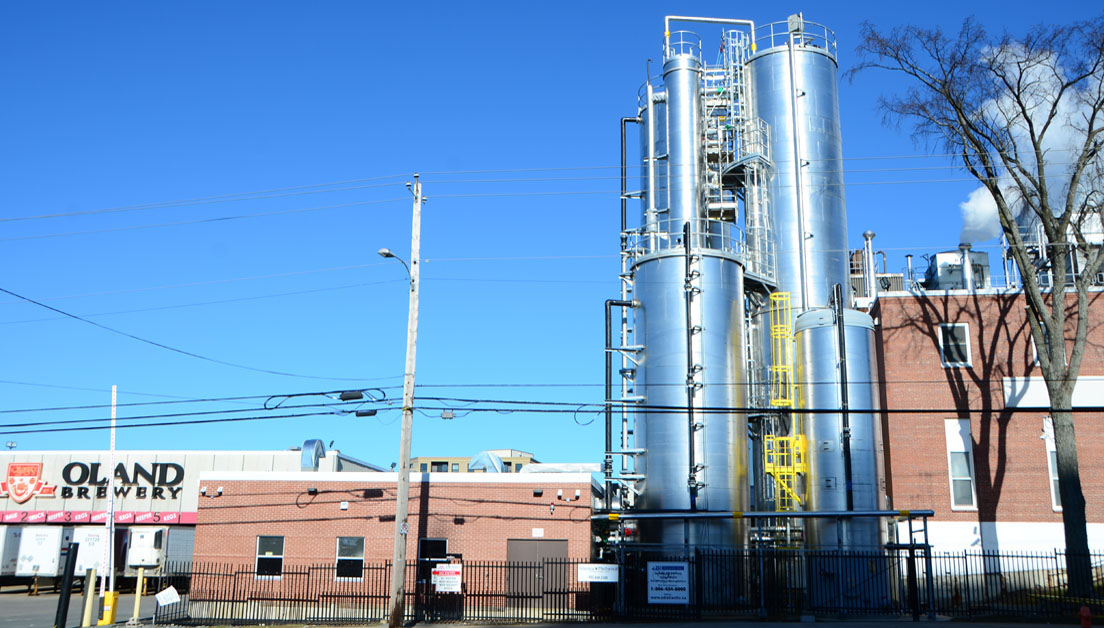 Results
The new ECSB system provides a high level of wastewater treatment within a small physical footprint and allows for the capture and utilization of valuable energy in the form of biogas.
The system treats an average 620 m3/d (0.16 mgd) of wastewater with 3,329 kg/d (7,340 lb/d) of chemical oxygen demand (COD). It also reduces biochemical oxygen demand (BOD), total suspended solids (TSS), and total phosphorus (TP) concentrations to meet the publicly owned treatment works' (POTW) discharge limits.
The system is designed to generate 1,200 Nm3 of biogas per day. The project is the first ECSB technology installation in North America. ​