Challenge
Located in Wernersville, Pennsylvania a borough of Berks County, the Robesonia – Wernersville Municipal Authority Wastewater Treatment Facility was prompted to upgrade its filtration process to address two aging traveling bridge sand filters and to meet new state water quality standards, including phosphorus effluent limits.
Solution
AGING EQUIPMENT SOLUTION
The municipality contracted with the engineering firm Spotts, Stevens and McCoy to evaluate tertiary filtration options. It was determined that the replacement of two existing Gravisand® Traveling Bridge Filters, that had reached the end of its useful life and no longer meeting permit, with two disc filter units would be a cost-effective solution for addressing future tertiary filtration requirements.
THE FORTY-X™ DISC FILTER — HIGH-QUALITY, HIGH-VOLUME FILTRATION IN LESS SPACE
Eastern Environmental Contractors, Inc., the successful lowbidder, purchased two Forty-X™ Disc Filters from the DAVCO™ product line of Evoqua Water Technologies. The Forty-X Disc Filter is a high-rate tertiary filter that fits into a fraction of the footprint required by traditional sand filters and uses an inside-out flow pattern that increases throughput, improves efficiency, and minimizes lifecycle costs. In addition, the system's robust pressure-assisted seal allows the panels to sustain and operate at a higher head. Its modular design adapts to a broad range of flows and applications including water reuse, tertiary filtration, process water filtration and conventional filter retrofits.
FEATURES AND BENEFITS
• Woven polyester media with an absolute micron rating.
• Modular design - flexible and expandable
• Easy to maintain - convenient efficient cleaning
• Suitable for water reuse
• Title 22 approved.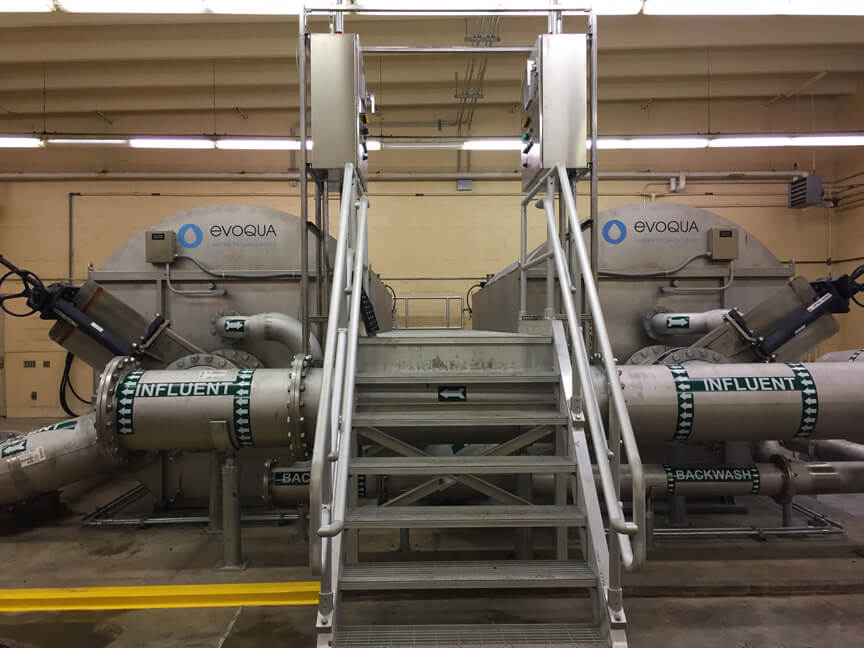 The two Forty-X™ Disc Filters are capable of handling a peak flow of 4.8 MGD while maintaining an effluent quality of 5mg/l TSS and <1.O P, exceeding the required limits.

Results
The two Forty-X™ Disc Filter units at the Robesonia -Wernersville Municipal Authority facility were started up in June 2016 and have a peak flow of 4.8 MGD while maintaining a consistent effluent quality of 5 mg/l TSS and <1.0 mg/l P, exceeding the required limit.