DAF Rental Units for Industrial Wastewater Treatment
See All Dissolved Air Flotation (DAF) Systems
Evoqua has three DAF rental units each of a different size, designed to remove total suspended solids, biochemical oxygen demand, and fats, oils and greases from a wastewater stream
---
Discontinued product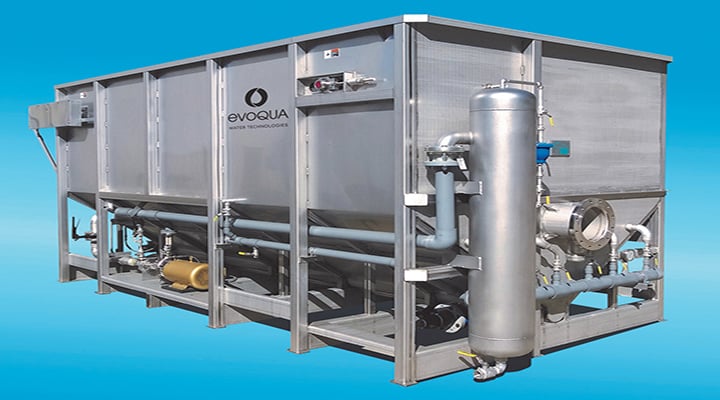 Evoqua has three DAF rental units each of a different size, designed to remove total suspended solids, biochemical oxygen demand, and fats, oils and greases from a wastewater stream
Discontinued product
DAF Rental Units for Industrial Wastewater Treatment
Description
Dissolved Air Flotation (DAF) is a proven and effective physical/chemical technology for treating a variety of industrial and municipal process and wastewater streams. DAF systems are commonly used to meet a variety of treatment goals including:
Product recovery and reuse
Pretreatment to meet sewer discharge limits
Pretreatment to reduce loading on downstream biological treatment systems
Polishing of biological treatment effluent
Thickening of biosolids
Evoqua's RT Rental DAF systems are designed to remove total suspended solids (TSS), biochemical oxygen demand (BOD), and fats, oils and greases (FOG) from a wastewater stream. Contaminants are removed through the use of a dissolved air-in-water solution produced by injecting air under pressure into a recycle stream of clarified DAF effluent.
This recycle stream is then combined and mixed with incoming wastewater in an internal contact chamber where the dissolved air comes out of solution in the form of micron sized bubbles that attach to the contaminants. The bubbles and contaminants rise to the surface and form a floating bed of material that is removed by a surface skimmer into an internal hopper for further handling, while heavier solids sink and are removed by the bottom auger.
If you know what you need please fill out a quick form here. We will respond within 24 hours.
Features of an Evoqua RT DAF Unit:
Evoqua offers three sizes of rental DAFs designed to hydraulically handle flows as shown below.
Leases are available for any duration of three months or more.
RT Series packaged DAF systems have incorporated more than thirty years of continuous improvements with multiple installations in a variety of applications.
DAF Unit: RT-50A
Overall Dimensions (L x W x H): 15' - 7" x 6' - 4" x 7' - 2"
Shipping Weight: 5,100 lbs
Operating Weight: 16,300 lbs
Effluent Water: 90 gpm nominal/200gpm max.
Pressure: Gravity
Electrical Requirements: 460V/ 3 phase/ 60 Hz/ 31 FLA
Optional 3HP-10HP pump depending on slude volume and characteristics, as well as customer preferences.
Service Connections - Inlet/Out/Float: 6"/ 6"/ 4" -150# Flange
Settled Solids Discharge: 4" Flange
Recycle Pump: Hellbender HB-90, 15HP
Active Surface Area: 57 ft
Nominal Water Volume: 1,260 gallons
Float Hopper Capacity: 100 gallons
DAF Unit: RT-100A
Overall Dimensions (L x W x H): 20' - 7" x 8' - 5" x 8' - 2"
Shipping Weight: 8,000 lbs
Operating Weight: 33,300 lbs
Effluent Water: 200 gpm nominal/400gpm max.
Pressure: Gravity
Electrical Requirements: 460V/ 3 phase/ 60 Hz/ 31 FLA
Optional 3HP-10HP pump depending on slude volume and characteristics, as well as customer preferences.
Service Connections - Inlet/Out/Float: 8"/ 8"/ 6" -150# Flange
Settled Solids Discharge: 4" Flange
Recycle Pump: Hellbender HB-90, 15HP
Active Surface Area: 101 ft 2
Nominal Water Volume: 1,260 gallons
Float Hopper Capacity: 170 gallons
DAF Unit: RT-240A
Overall Dimensions (L x W x H): 33' - 3" x 10' - 5" x 9' - 8"
Shipping Weight: 14,100 lbs
Operating Weight: 83,300 lbs
Effluent Water: 480 gpm nominal/1,000gpm max.
Pressure: Gravity
Electrical Requirements: 460V/ 3 phase/ 60 Hz/ 44.6 FLA
Optional 3HP-10HP pump depending on slude volume and characteristics, as well as customer preferences.
Service Connections - Inlet/Out/Float: 12"/ 12"/ 6" -150# Flange
Settled Solids Discharge: 6" Flange
Recycle Pump: Hellbender HB-150, 20HP
Active Surface Area: 239 ft 2
Nominal Water Volume: 8,450 gallons
Float Hopper Capacity: 360 gallons
RT systems provide unique standard features including:
Complete, skid-mounted design for quick, easy installation
Rugged 304/316 SS tank design that will not flex and is corrosion resistant
Integral flocculation tube that is equipped with three chemical injection ports and is designed to provide optimal mixing of coagulant and flocculant chemicals within the recommended flow range
Safe, simple, reliable design and operation provides superior performance without the use of high maintenance, labor intensive plate-packs that can foul or collapse
Completely prewired NEMA 4X control cabinet requiring only a single drop of 460V/3 ph power to operate
An industry-leading HELLBENDER® whitewater system that is both efficient, and eliminates the need for an external air source
Variable speed skimmer drive
Large, internal float hopper minimizes pumping requirement
DAF float hopper is equipped with a float level sensor to enable an optional sludge pump to be started and stopped automatically
Automated settled solids auger
Quality drive and pump components for long-term reliability