Forty-X® Disc Filter Armor Lite Series
See All Disc Filters
Armored disc filtration system defends influent challenges
is the minimum order quantity for this product. Please check quantity and add to cart again.
Request Proposal
---
Discontinued product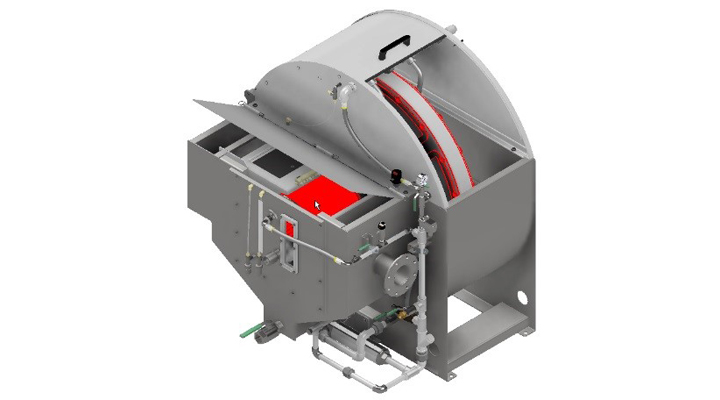 Armored disc filtration system defends influent challenges
Discontinued product
Description
The Forty-X® Disc Filter Armor Lite series is a high-rate filtration device that utilizes an integrated pre-screen and stainless steel panel designed to accommodate high solids loading capacities and greater hydraulic throughput all within a small, compact footprint. The design is ideal for Primary Filtration, Storm water Flows (CSO), and tertiary filtration applications for 600 gallons per minute (GPM) or less.
Evoqua's Forty-X® Disc Filter Armor Lite series offers a modular design that is flexibile and dependable for municipal and industrial filtration applications. Available as a skid-mounted plug-and-play unit or a stand-alone filtration device. The pre-screen is like "Armor" for the disc filter, providing initial filtration of large organic and inorganic materials.
Armored to Protect
Evoqua's Forty-X® Disc Filter Armor series combines outside-in and inside-out filtration technologies within one filtration unit. Influent water flows through an integrated pre-screen (outside-in) to the disc filter panels (inside-out). This innovative combination of two filtration technologies into one unit provides an effective and robust option for those difficult applications.
Innovative Disc Filter Panel Design
Evoqua's woven optimum tertiary mesh (OTM) filter panel utilizes 316L stainless steel threads to create a weave that improves solids collection and rejection. The panel configuration includes a robust, molded structural frame and a pressure -assisted seal allowing the panels to sustain and operate at a higher headloss and provides higher throughput when compared to other woven polyester flat panel disc filter designs.
Plug-and-Play Design
The skid-mounted plug and play design of the Forty-X® Disc Filter Armor Lite series is a perfect solution for Primary Filtration, StormFlows (CSO), and Tertiary Filtration applications.
Features & Benefits
Small, compact footprint.
A pre-screen is designed to accommodate high solids loading capacities
Woven optimum tertiary mesh filter panel utilizing 316L stainless steel threads improving solids collection and rejection.
Modular design offers flexibility and expandability.
Wind safe sliding arch covers for easy access and maintenance. 
Easy to operate and maintain. 
Stainless steel tank or stainless steel frame designs.
Automated Chemical CIP System 
Heavy Solids/Grit handling capabilities
Patents
May be covered under patent applications, publications US2018-0147509 and WO2018/031884"