Upgrade Sand Filters with Forty-X® Disc Filters
See All Disc Filters
Increase filtration capacity and performance in existing footprints
is the minimum order quantity for this product. Please check quantity and add to cart again.
Request Proposal
---
Discontinued product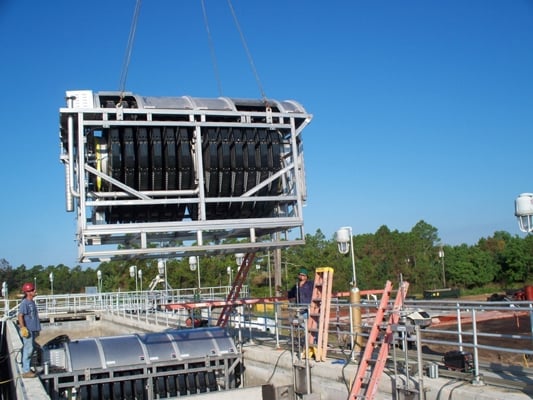 Increase filtration capacity and performance in existing footprints
Discontinued product
Upgrade Sand Filters with Forty-X® Disc Filters
Description
The Forty-X™​ Disc Filter is a high-rate tertiary filter that requires a fraction of the footprint required by traditional sand filters. Designed with a unique woven stainless steel filter panel, the Forty-X Disc Filter uses an inside-out flow pattern that reduces backwash cycles and energy demand leading to lower lifecycle costs.
For applications requiring a higher solids loading capacity and greater hydraulic throughput, the Forty-X™ Disc Filter Armor series is recommended combining outside-in and inside-out filtration technology within one filtration unit. Influent water flows through an integrated pre-screen (outside-in) to woven stainless steel disc filter panels (inside-out), providing an effective and robust solution for challenging water and wastewater filtration applications.
The modular design of both the Forty-X Disc Filter and Forty-X Disc Filter Armor series provides a flexible and dependable filtration solution for tertiary filtration, municipal and industrial reuse/recovery, product recovery, process water filtration, and conventional filter retrofit applications.
Forty-X® Disc Filter Advantages
40% more filtration capacity when compared to flat panel designs
Drop-in simplicity with little or no structural modifications
Can accommodate existing hydraulic profile
Increases capacity of an existing sand filter up to three times
Easy operation and maintenance
Suitable for water reuse
Title 22 approved
Applications & Installation Options
Expand filtration capacity
Meet stricter effluent limits
Retrofit traveling bridge filters
Retrofit deep bed sand filters
Retrofit into chlorination basins
Retrofit into rectangular clarifiers