Filtration System Controllers and Valves
See All VAF™ Screen Filters
Simple and effective control and monitoring for filter systems
is the minimum order quantity for this product. Please check quantity and add to cart again.
Request Proposal
---
Discontinued product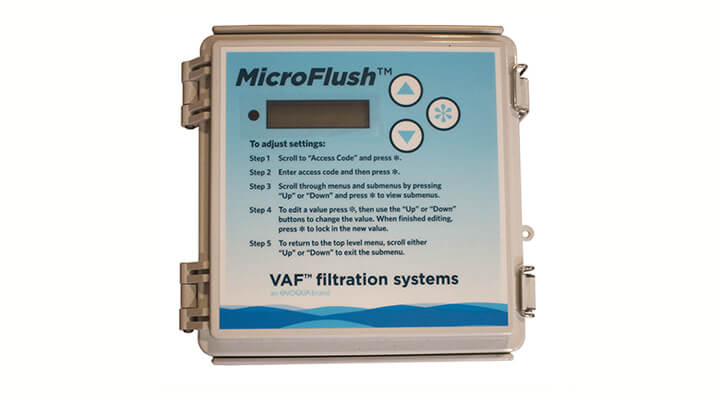 Simple and effective control and monitoring for filter systems
Discontinued product
Description
The range of Evoqua controllers for filtration systems offer simplicity with a number of features for easy operation to meet your specific requirements.
All systems include a large LCD display, menu driven programming, and historical data recording.
Filt-N-FlushTM Controller
A basic and cost effective solution for monitoring filter systems
VF_- AC Filter Controller
This controller allows flush cycles to be initiated by: Manual; Periodic (time between flushes) and/or Pressure differential across the filter. Up to 4, 8 or 12 parallel filters may be connected to the VF -AC controller. Multiple filters flush sequentially when a flush cycle is initiated. The controller then checks to be sure the pressure differential has dropped to zero, indicating the filtering medium has been cleaned. If a preset limit (adjustable from 1 to 7) of simultaneous flush cycles occur, the VF_-AC will send an alarm signal.
MicroFlushTM filtration system controller
Allows the control and monitoring of a self-cleaning system with unprecedented features and flexibility at an economical price