VANOX® Point-of-Use System for Ultrapure Water Treatment
See All Packaged High Purity Water Systems
Our proprietary advanced oxidation process used in the Vanox® POU system can consistently reduce TOC to 0.5 parts per billion (ppb) and treat seasonal TOC variations in feed water
---
Reduces TOC (total organic carbon) to 0.5 ppb
Removes and/or controls urea and IPA
Controls THM (Trihalomethane)
Effectively treats the byproduct Dioxane and other contaminants
Fully redundant (n+1) with 365 days, 24 hours uptime
Discontinued product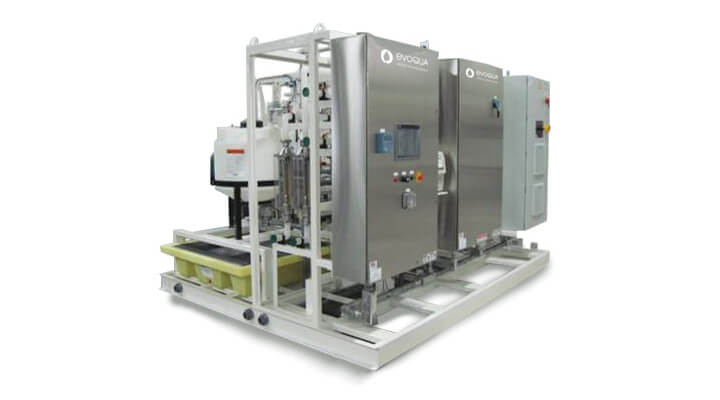 Our proprietary advanced oxidation process used in the Vanox® POU system can consistently reduce TOC to 0.5 parts per billion (ppb) and treat seasonal TOC variations in feed water
Reduces TOC (total organic carbon) to 0.5 ppb
Removes and/or controls urea and IPA
Controls THM (Trihalomethane)
Effectively treats the byproduct Dioxane and other contaminants
Fully redundant (n+1) with 365 days, 24 hours uptime
Discontinued product
Description
Our proprietary advanced oxidation process used in the Vanox® POU system can consistently reduce total organic carbon (TOC) to 0.5 parts per billion (ppb) and treat seasonal TOC variations in feed water. This is important because TOC elevations above 1.0 ppb can directly affect the manufacturing process, significantly impacting product yields. Many immersion lithography tools require low organic content for warranty but their impact on process performance cannot be understated.
The Vanox system removes and/or controls urea and IPA, the primary organics that can require a more elaborate treatment. These difficult to control organics have been proven to impact yield and device performance especially at the most demanding process steps. THM (Trihalomethane), such as chloroform, which is generated as a by-product from the use of chlorine in municipal water treatment is readily controlled, as well.
In addition to TOC reduction, the Vanox system exceeds the ITRS specifications for particle reduction less than 100 unit per liter at 0.05 microns, critically stable temperature controls, low trace metal and gas removal. Each of these parameters have been proven to provide a stability for process control that only the Vanox POU platform can offer.
While initially developed for high purity applications, the Vanox system is also very effective at contaminant removal for water and wastewater recycle applications. Dioxane, a byproduct of solvents used in many industries, which is linked to cancer, can be effectively treated.
New regulations are emerging that will expand the already high number of locations that require treatment for both potable water and wastewater. Evoqua's comprehensive process data demonstrates that Vanox systems can significantly outperform other technologies, while being significantly less expensive.
The fully redundant (n+1) designed Vanox POU systems offers 365 days, 24 hours uptime. Vanox systems ramp up to meet the incoming demand required preserving power, capital costs and chemicals. By utilizing a suite of analytical measurement tools the the system offers continuous process control and access to streaming process data for tracking of the system and environmental promoters.
The Vanox system implements Total Organic Carbon (TOC) reduction technology that has surpassed all current technologies in performance. Our (n+1) design and superior analytical feedback has made us the system of choice for 300 mm manufacturing demands, as well as, future 450 mm factories that are realizing the benefits of low TOC content water supply.
We understand your needs where every hour of the day is needed to make your forecast and no one ever dares mention how well the factory is running. That is why we have supplied dozens of platforms used reliably on several continents with platforms in service since 2007. When you trust your factory's critical tools to a single vendor, you know that Evoqua has the track record and proven experience to help you rest easy when you go home for the day.