Testing and Modeling Capabilities For Contaminants Including PFAS
See All PFAS Services
Evoqua is a single-source provider of contaminant removal including PFAS and other emerging contaminants. This capability includes pilot tests for media and system sizing.
is the minimum order quantity for this product. Please check quantity and add to cart again.
Request Proposal
---
Discontinued product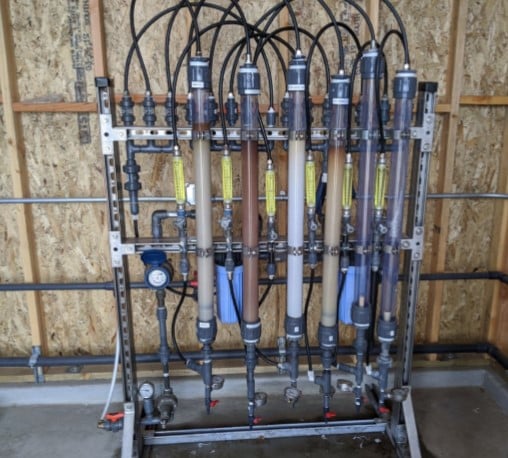 Evoqua is a single-source provider of contaminant removal including PFAS and other emerging contaminants. This capability includes pilot tests for media and system sizing.
Discontinued product
Description
Numerical modeling, bench- and pilot-scale capabilities provide valuable insight to optimal treatment configurations
Water treatment can be challenging and complex. Treatment objectives vary from site to site. Changes in the influent water quality can require modifications to treatment processes, and new regulatory limits may require different treatment technologies altogether. When determining the appropriate treatment technique, a variety of conditions must be considered. In the end, performance must be balanced against ease of implementation and operation, site constraints, and capital and long-term costs, among other factors. In certain cases (e.g. required by NPDWRs for disinfection byproduct control) treatment studies must be conducted, but even if not required, the use of numerical modeling software and bench- and pilot-scale work can provide many advantageous insights.
Field Piloting Provides the Best Indicator of Performance and Predicted Cost Savings
While field pilot testing often requires more time and resources, the resulting data is the most accurate indicator of full-scale performance. This is largely due to taking into account the changes in water quality over time (compared to a static water sample or theoretical water quality inputs).
Recently, Evoqua Water Technologies designed and manufactured a large pilot system for PFAS removal. Orange County Water District, who provides water to 19 water agencies, partnered with Evoqua and deployed three pilot skids allowing comparisons between different media classes including eight granular activated carbons (GAC), four ion exchange resins (IEX), and two novel adsorbent materials. Even in the same media class, comparisons can be made between the many carbon or resin products currently on the market. Operating variables such as the empty bed contact time, hydraulic loading rate, pH adjustment, or pre-treatment can also be evaluated. Based on the results of these tests, the ideal media can be selected. When extrapolated across the multiple water producers treating for PFAS, even small improvements in media performance equate to significant savings on an annual treatment basis.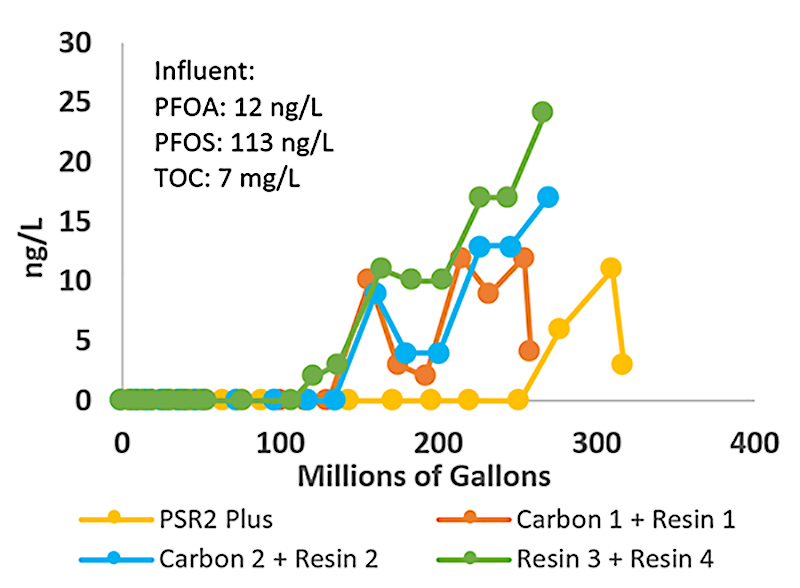 Comparing different configurations of media, full-scale piloting reveals Evoqua's treatment configuration using PSR2 PLUS ion exchange resin as the superior solution.
As another example of large-scale piloting, Evoqua worked with a utility in South Florida to compare GAC and IEX medias in treating a water containing multiple PFAS compounds and having a background total organic carbon (TOC) concentration of 7.0 mg/L. The initial pilot study results revealed that Evoqua's PSR2TM PLUS ion exchange outperformed GAC due to the high TOC concentrations. Following the study, the customer elected to conduct a full-scale pilot evaluating four IEX vendors side by side. To treat the high level of organics, each vendor selected the media or media combinations they thought would perform best. Some vendors selected a resin solution with a carbon topper while another vendor went with a two-resin configuration. Evoqua selected the PSR2TM PLUS ion exchange resin alone. The results shown in the figure on the previous page demonstrate Evoqua's know-how in selecting the optimal treatment media and configuration. After 160 million gallons of water treated all other media configurations had PFAS concentrations in their effluent while the PSR2 PLUS resin continued to produce non-detect results.

Bench-scale Testing Saves Time and Money.
While pilot-scale studies generally yield more representative results to full-scale systems, bench-scale tests can provide useful insights with lower costs and quicker turn-around-times. Evoqua's state-of-the-art water treatment laboratory is equipped to perform these services. Bench-scale work can be accomplished in-house or with skid-mounted units for on-site deployment to the customer's location. Jar testing and rapid small-scale column tests (RSSCTs) can be used to evaluate treatment effectiveness. RSSCTs are designed and operated according to the ASTM Guide D6586 which is important when demonstrating reproducibility and quality of results. With the RSSCT, a bench-scale adsorber is scaled to a full-scale adsorber maintaining the required hydraulic loading conditions and matching the controlling mass transfer process. Doing so provides comparative breakthrough between different media's capacity and kinetics - all done requiring a fraction of the analytical samples and required volume of test water and accomplished in significantly shorter time.

A successful bench-top test involved Evoqua's investigation of a customer's concern about arsenic leaching. Depending upon the media used, arsenic elution can occur during start-up and permit conditions can be exceeded. Bench-scale testing was conducted on three carbon products from both our competitors and from Evoqua. The results demonstrated limited arsenic leaching from the coconut and sub-bituminous carbons with greater arsenic leaching observed in the reagglomerated product. Evoqua's AquaCarb®1230C coconut carbon was selected by the customer and is currently in-service. There is no cause for worry regarding non-compliance issues due to arsenic leaching.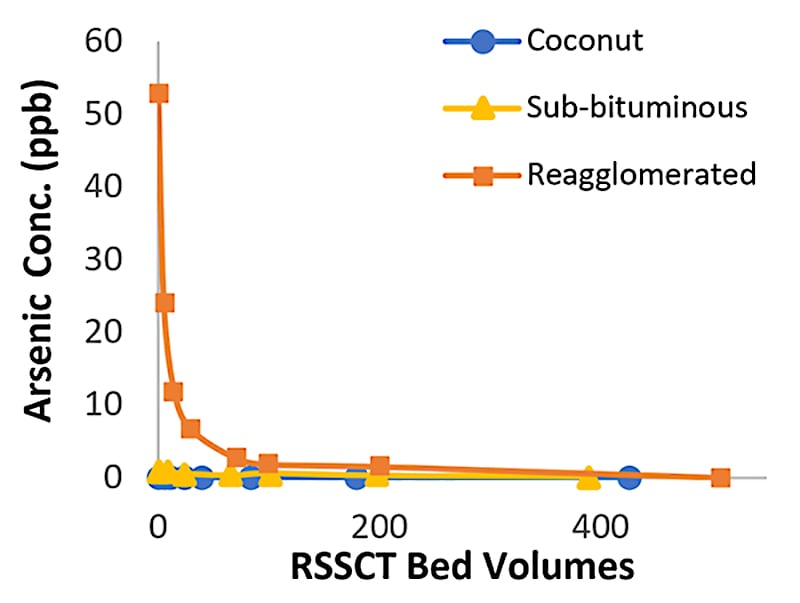 Bench-scale testing results for arsenic due to leaching from various carbon products upon treatment system start-up. An Evoqua product was selected for treatment and customer compliance was maintained.
Evoqua's Extensive Experience Can Provide Accurate Modelling for Bed Life Estimates
Finally, modeling simulations offer the quickest option for obtaining useful data to influence treatment decisions. Evoqua possesses both the software and the know-how to predict system performance considering many variables. Our models and bed life estimates are supported by over 25 years in application experience. Models can determine the effects due to process modifications and can assist in identifying the optimal technological set-up for your specific water quality and treatment objectives.
Media
Evoqua offers a wide variety of effective media for different applications. From many different types of carbons, to a range if ion exchange resins, to many other media for organics and inorganics, we have what you need to remain compliant.