Clean water is the world's most precious resource. Evoqua is committed to helping our customers be more sustainable through our solutions and service offerings (handprint) and in our operations (footprint). This webinar series will explore water treatment best practices in the Aerospace & Defense manufacturing industry, including sustainable water practices, wastewater treatment and water reuse for specific applications, and digital water management for reliable water quality.
Join Evoqua experts for this informative on-demand webinar series.
Webinar Series: Water Treatment Best Practices in Aerospace & Defense Production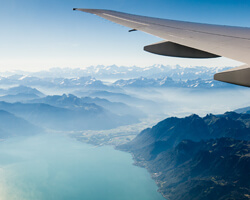 1. Sustainability in Aerospace and Defense Production
Presented by Caitlin Berretta and Sam Mason
As growth has increased the demand for water, manufacturing facilities in the Aerospace and Defense sector are investigating alternate water sources and sustainable water use in order to decrease costs, reduce the size of the plant's water footprint, and be good corporate citizens. Sustainable water practices are clearly the path forward but knowing where to start can be a significant and confusing challenge.
In this webinar, we will identify the common drivers for reducing and reusing water in Aerospace and Defense production and will discuss where and how plants can save time, money, and energy while reducing their water footprint.
WATCH ON-DEMAND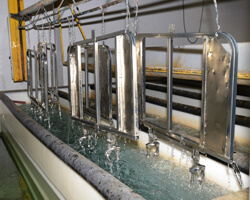 2. Wastewater Treatment and Water Reuse for Aerospace & Defense Applications
Presented by Chris Riley and Mark Korzenecki
Aerospace and defense manufacturing uses a number of metal finishing and cleaning processes that generate wastewater. Treatment options can vary depending on wastewater composition and local discharge requirements. This webinar will discuss the importance of wastewater characterization, treatment technologies, and how to determine the correct treatment process to effectively meet your discharge compliance and/or sustainability goals.
WATCH ON-DEMAND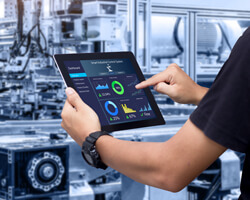 3. Digital Water Management for Reliable Water Quality
Presented by Chris Lucchesi and Mark Sampica
Water One® services provides a unique solution for Aerospace and Defense customers by combining key technologies with outcome-based water guarantees. Using remote monitoring, Evoqua can provide proactive, predictive services to maintain customer's unique water needs. Combined with a predictable, levelized billing structure, the Water One solution is much easier to associate your costs with production. Additionally, since Water One services takes care of all maintenance, expendables, and repairs, your water system costs become stable and predictable.
WATCH ON-DEMAND
About the Presenters
Caitlin Berretta, Director of Government Affairs & Sustainability
Caitlin is responsible for leading cross-functional efforts to drive Evoqua's Sustainability initiatives as well as building the first Government Affairs program for Evoqua. She holds a Bachelor of Science and Masters of Engineering degree in Environmental Engineering from the University of Florida. She brings over 10 years of experience across a broad background of sectors including water treatment, power, and clean energy. Caitlin also serves as Vice Chair of the Water and Wastewater Equipment Manufacturers Association Legislative Committee.
Sam Mason, Business Development Manager, Wastewater Capital
Sam has a background in applications engineering of wastewater products. He has previously held roles in research and development and product management in ion exchange, membrane systems and chemical water treatment. Sam has a Bachelor of Science degree in Chemistry from Cleveland State University.
Chris Riley, Technical Services Director, WWIX
Chris Riley is responsible for directing technical support activities for wastewater ion exchange (WWIX) customers as well as supporting media regeneration and quality operations. Prior to joining Evoqua, Chris held environmental engineering roles in the electroplating and environmental consulting industries where he worked in the areas of wastewater treatment and operations support, environmental auditing and process waste minimization. Chris holds a bachelor's degree in Chemical Engineering from Michigan Technological University, a master's degree in Civil (Environmental) Engineering from the University of Minnesota and is a registered professional engineer.
Mark Korzenecki, Business Development Manager, WWIX
Mark has been with Evoqua Water Technologies for over 16 years as a Business Development Manager and formerly as a High Purity Field Sales Engineer. Prior to joining Evoqua, he held account management roles in the hazardous waste/environmental services industry. His focus is on ion exchange, adsorptive media and wastewater treatment systems for managing wastewaters from metal finishing operations, general industry and groundwater remediation applications for the removal of regulated inorganic/heavy metal contaminants.
Christopher Lucchesi, Director of Product Management, Integrated Solutions & Services
Chris has over 20 years of experience in the water treatment business holding various positions including, Sales Manager, Vertical Market Manager, and Product Manager. He holds a Bachelor of Science in Chemical Engineering and a Master in Business Administration from the University of Missouri.
Mark Sampica, Product Manager, SDI and Water One® SD
Mark is a product and application expert for Evoqua's service deionization (SDI) and Water One® Service Deionization offerings. He has over 20 years of industrial product management experience with considerable knowledge of IoT, automation & control systems, instrumentation & sensors, and power generation. He holds a a Bachelor of Science in Engineering Technology, a Master of Science in Technology Management and a Master of Business Administration in Marketing Management.
Mark is a retired U.S. Air Force Officer where he held leadership positions as Crisis Action Team Executive Officer and Aircraft Maintenance Squadron Commander.