The Griswold Water Treatment Plant is part of Aurora Water, the utility that manages water and wastewater in the city of Aurora, Colorado, USA. This direct filtration plant treats 80 million gallons of water per day (302,800 m³/d).


Challenge
Originally built in 1965, the Griswold Water Treatment Plant had undergone several expansions over the years to meet anticipated future regulations and replace aging equipment. A recent renovation included reclassifying filters, improving mixing for the remodeled twin flocculation basins, and changing primary disinfection from chlorine to chlorine dioxide to reduce disinfection by-product (DPB) potential.
Since chlorine dioxide is very UV reactive, the flocculation basins required covers to block sunlight. Plant operators wanted a cover solution that would allow them easy and individual access to each flocculation basin's three separate passes.


Solution
Evoqua's Geomembrane Technologies™ brand retractable, structurally supported covers were selected for the flocculation basins. The Griswold Water Treatment Plant chose these covers because of their ability to customize features, including individual access, at a competitive price.
The structurally supported covers consist of a sheet of high-strength, UV-protected coated fabric tensioned across low-profile aluminum arches that span the basin openings. The cover can be detached on three sides and retracted to expose the tank contents for inspection or maintenance. The covers are essentially maintenance free, and also keep wind-blown debris from entering the basins. Rain or snowmelt water automatically runs off the cover to the tank perimeter.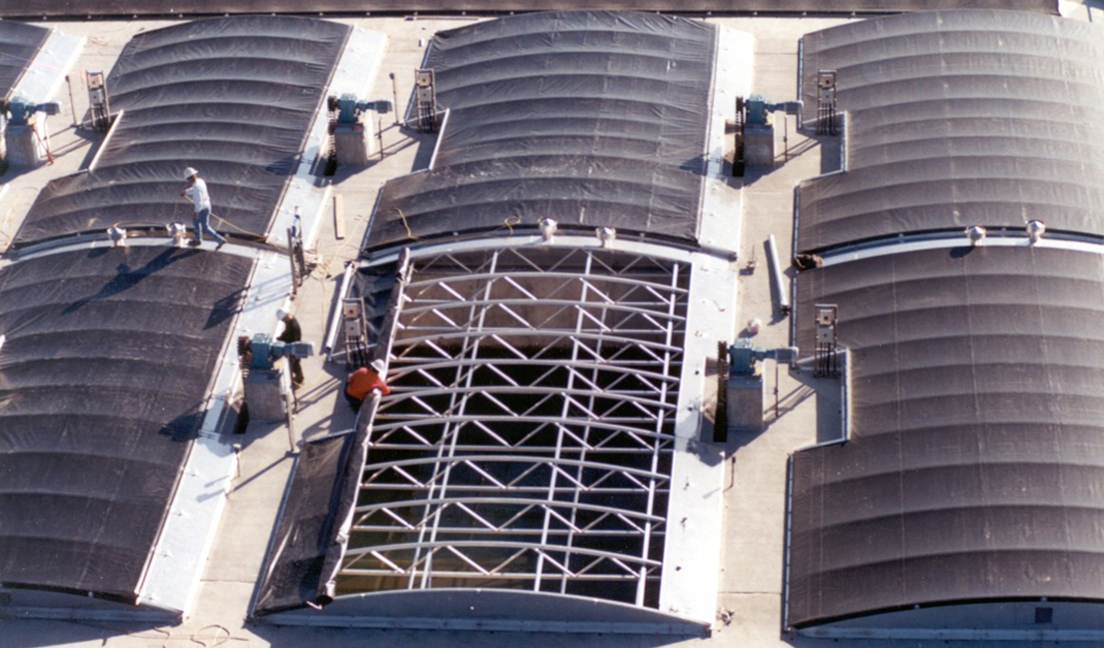 Results
Management at the Griswold Water Treatment Plant reported that the cover installation was fast and efficient and, more importantly, the covers block sunlight from entering the basins as required.
Being able to roll the fabric covers open, rather than disassembling a fixed cover, saves time. The retractability feature became even more appreciated after a worker slipped and fell while performing annual basin cleaning. Prior to the retractable covers being installed, workers had to enter the basins through hatches to clean residuals from the basin walls and floors, washing them into the center drain. Since the basin floors are sloped and slippery, this maintenance was hazardous.
After the safety incident, the maintenance procedure was revised to take advantage of the retractable covers. Now workers simply roll open and wash the basins from the deck, without needing to enter the basins or drag hoses and equipment through the basin passes. "Annual basin cleaning is safer and easier with the retractable covers," said Watson.