The Cronulla Wastewater Treatment Plant (WWTP) is one of 30 wastewater treatment and water recycling plants in greater Sydney, the Blue Mountains, and the Illawarra. It is owned and operated by Sydney Water, Australia's largest water utility. The plant is located on the southern end of the Kurnell Peninsula (about 18 km [11 miles] from the city center), and treats about 54 million liters (14 million gallons) of wastewater a day.


Challenge
Like many of Sydney Water's WWTPs, the Cronulla WWTP is located in a sensitive environmental area. Concerns regarding the potential impact of odors on a new residential development near the WWTP led to a review of odor sources and environmental factors. The source of odor was determined to be coming especially from the primary treatment areas: inlet screening, grit tanks, primary sedimentation tanks (PSTs), PST launders, inter-stage overflow, and pumping station areas. There were existing covers on the grit tanks, launders and the inter-stage overflow area, but the covers had reached the end of their service life and were not effectively controlling odor emissions.
Sydney Water felt it had an obligation to be a responsible neighbor, so it decided to develop and implement an odor control improvement project that would drastically reduce predicted odor impacts. The project would also ensure the Cronulla WWTP could continue to perform in line with environmental requirements. The Odor Management Program Alliance (Sydney Water, Lend Lease, and CH2M Hill) worked to design, deliver, and manage the project, which included three areas of focus related to odors:
Covering the various treatment tanks to capture foul air while allowing the required operator and maintenance teams access to tank internals.
Rehabilitating and protecting concrete structures below the covered areas to ensure the intended asset life.
Constructing a new odor treatment facility to capture and treat the foul air.


Solution
Because the Cronulla WWTP had been identified as having a 'high odor risk', the design and implementation of the odor control technology was important. "Odor control covers must be tailored to suit the requirements of plant operational and maintenance teams," says Robert Aurisch, Cronulla Plant Manager. A combination of innovative and traditional cover solutions were needed to address the odor issue.
Sydney Water and their engineering advisor, CH2M Hill, researched available cover technologies to determine the appropriate cover designs for the different process units at the Cronulla WWTP. When it came to choosing a cover technology for the PSTs, launders, and portions of the inter-stage overflow area, operational and maintenance teams at the Cronulla WWTP knew that access and egress would be critical factors. For example, when PSTs are taken out of service for cleaning, the scraper flights must be lifted slightly to allow wash water and residuals to drain. Any odor control cover must allow this access. Considerations also included safety, manual handling requirements, confined spaces, air tightness, maintainability, and cost. Retractable covers from Evoqua's Geomembrane Technologies™ brand were selected for these large areas of the plant, where access and egress were critical.
The retractable covers were chosen because they effectively capture foul air while still allowing workers quick and easy access to tank internals. The cover system consists of retractable fabric covers tensioned over supporting aluminium arches. The design includes inspection hatches as well as clear span guardrails that allow covers to be safely opened and closed without interference from standard guardrail supports.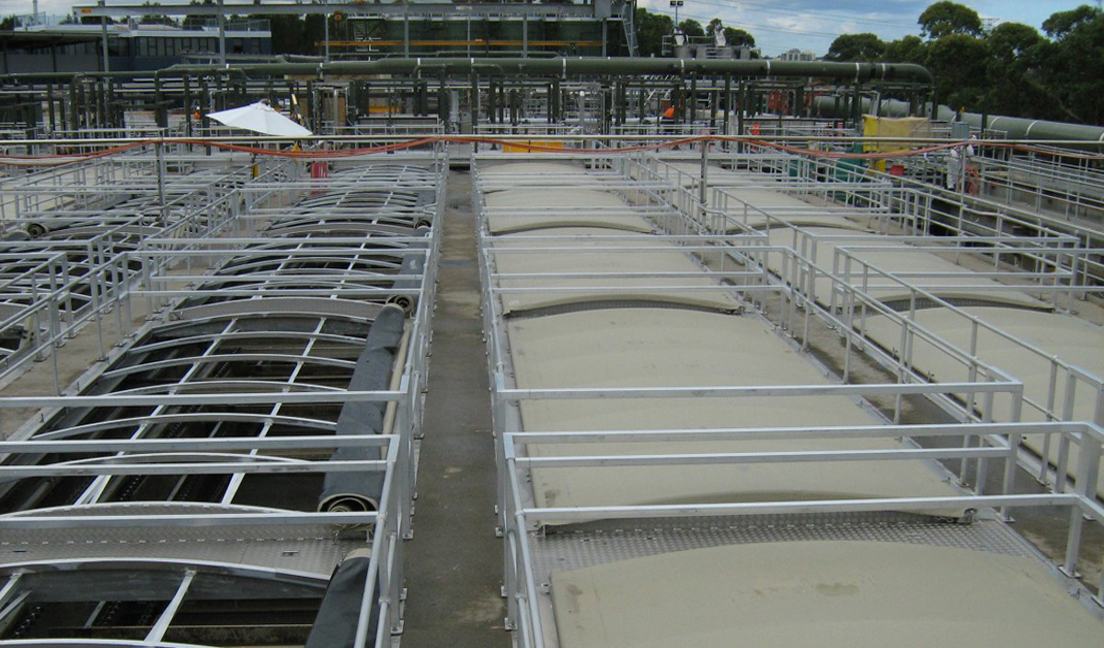 Results
Sydney Water and its Alliance partners developed and implemented the right solution for the Cronulla WWTP to help it fulfill its obligations as a neighbour within its community.
Wastewater is treated to tertiary standard (the highest level of treatment) and then used for irrigation. Odors are proactively controlled, while protecting plant infrastructure and allowing operational and maintenance teams to perform their necessary work.
With the newly designed ventilation system, Evoqua's Geomembrane Technologies™ brand covers are able to maintain a negative pressure of around 20 Pascal (0.08" w.g.), which means an odor capture of more than 99%.