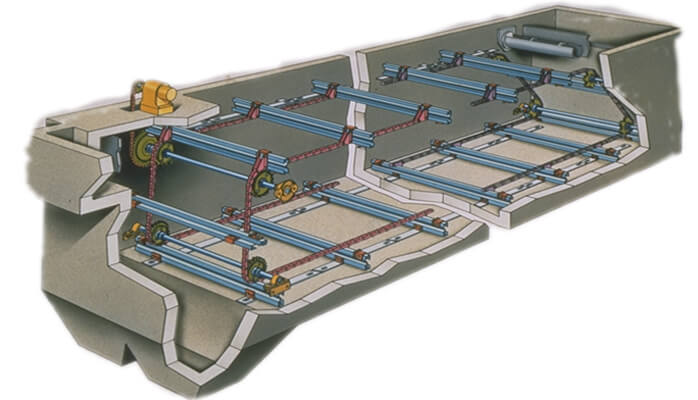 Industry leading sludge collector technology for long-lasting performance
Discontinued product
Envirex® Chain and Scraper Components
Description
Envirex® Chain and Scraper system components are designed for low maintenance, ease of assembly, and long life. We offer more options, material choices, and sizes than anyone else in the industry. As the original equipment manufacturer (OEM) for the Envirex brand, we can provide original equipment drawings for faster, more cost-effective service. We can also retrofit other manufacturer's equipment with on-site inspections and engineering services from our technical experts. Learn more about our Chain and Scraper Components below or contact a clarifier expert for assistance in selecting the right components for your sludge collector system.
Envirex® Chain & Scraper Systems and Components
Envirex® Heavy-Duty Chain & Scraper Sludge Collector Systems
Envirex® Chain & Scraper Sludge Collector Systems & Compoments

All parts and components meet NSF Certification.
Part and Component Options
Collector and Drive Chain Options
Collector Chain
Drive Chain
Sprocket and Bearing Options
Sprockets
Bearings
Floor Rail, Track and Flight Options
Envirex® Chain & Scraper Systems Components
Non-metallic components from the OEM to extend system life
Watch now