Imagicaa, owned by Imagicaa world Entertainment Ltd., is India's first and only family destination from Mumbai to Pune, and makes for a perfect weekend getaway as it includes a theme park, water park, and 287 rooms spread across 130 acres, of which 10 of those acres is occupied by the water park. The theme park was opened in April 2013. It has close to 26 international standard rides and is a major tourist attraction among the top places to visit in Maharashtra. The Mykonos-themed water park, consisting of 14 water slides, was launched adjacent to Imagicaa theme park in September 2014. The destination composite of theme and water park operates year-round with an annual visitation of 1.5 million+.
Imagicaa is a green field project with no relative Indian benchmarks for a similar project and their focus was mainly on environmental sustainability, safety, and quality. The destination as a whole has acquired the highest quality standard certification in terms of water and food safety. They have incorporated the water recycling mechanism in their facility by constructing a rainwater harvesting reservoir to reduce the water footprint of the park for better water management as part of their sustainability initiatives. This has helped the facility to reduce the water park's reliance on outside water sources, whilst also helping to maintain the local environment.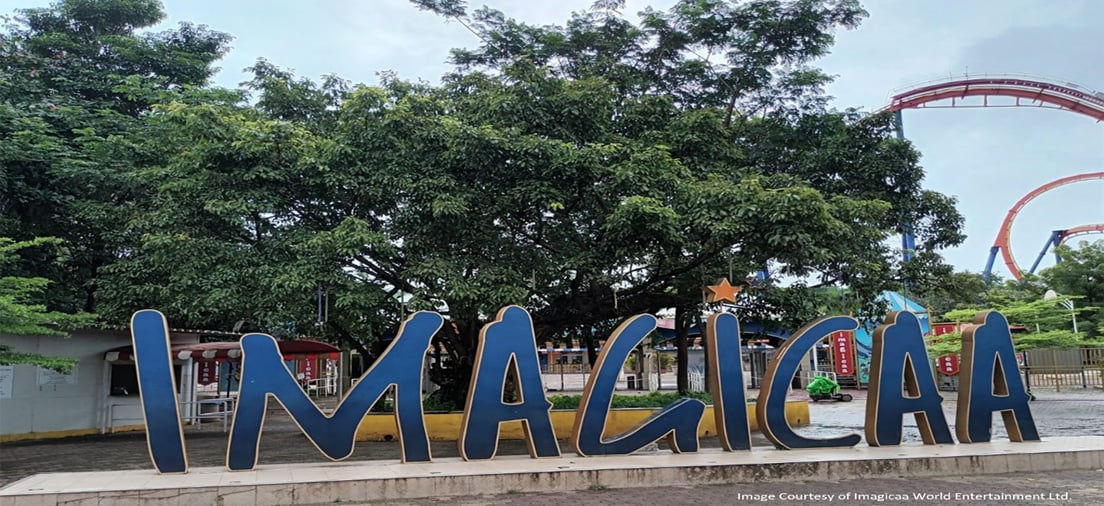 Challenge
The two key elements for setting up any water park are water safety and water savings. The group wanted to have an international standard set for the park starting from the rides to their water filtration technology in order to give an overall best-in-class quality experience to the visitors of the park, keeping in mind the young crowd (starting from babies to school-going kids) who are the major crowd puller, to the elder crowds. There were many major attractions initially planned and designed for the water park, like a wave pool, lazy river, and several other water rides. The wave pool is 22,000 sq ft and uses 1,360,000L water. The other small water rides also use considerable amounts of water, adding up to an overall usage of 4,200,000L water for all water activities.
Considering the brand image and quality, the park is estimated to have year-round visitors from all age groups, and hence they wanted to benchmark their quality standards in terms of not only the rides but more importantly, the quality of water used in the pools and other water rides. Water gets contaminated easily with the increasing number of bathers, and one of the most common infections after getting exposed to pool water is a cryptosporidium protozoa infection, which is a chlorine-resistant pathogen, with a size of approximately 5 microns. This parasite is the main reason kids and adults get diarrheal disease leading to stomach cramps, dehydration, and eye irritation. Bad water quality not only affects the brand and reputation of the park but also its safety standards. Small children easily get exposed to the risk of RWI's (recreational water illness), and with the increasing number of bathers, the pool water will gradually get cloudy and develop a bad odor, leading to corrosion which ultimately increases the utility cost. Changing the water frequently was not a solution in a country like India with the increasing demand for drinking water.
The key driving factor was to achieve the Imagicaa water park's sustainability goals and quality standards with an economical solution for the water filtration technology. The park evaluated many filtration technologies, and after a lot of research and evaluation, they choose Evoqua.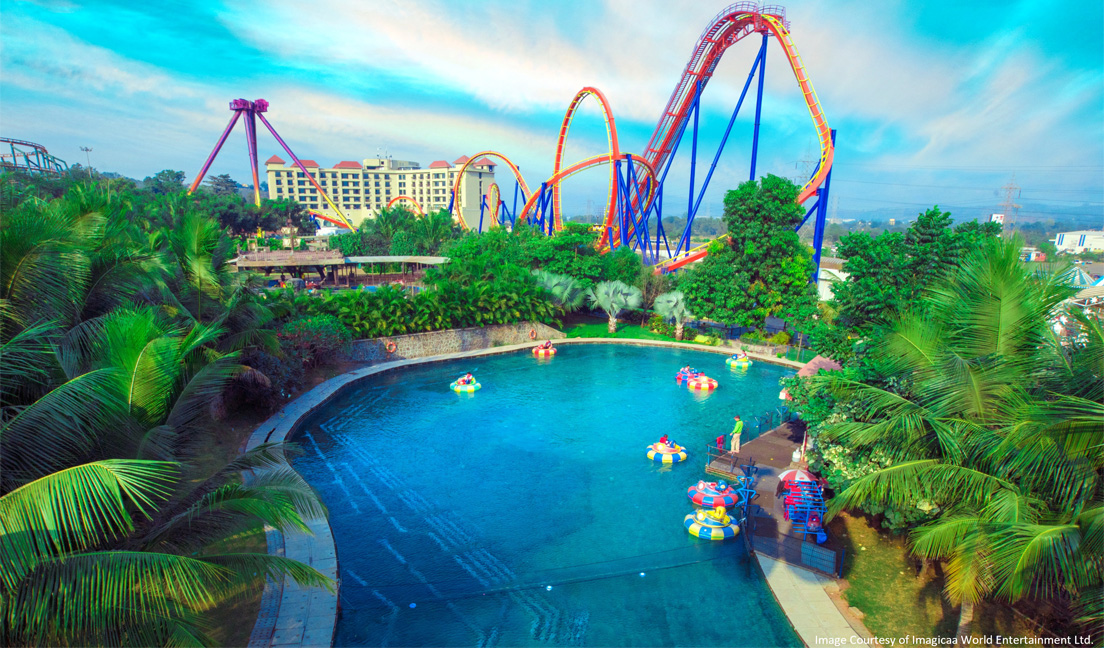 Solution
After keeping water safety, quality, and sustainability concerns top of mind, Evoqua recommended its Defender® media regenerative filter technology. This technology has a high-performance filter with the capability to filter as low as 1µm size particles and is labeled as a gold standard filtration technology. This product was installed from the inception of the park and a total of 9 filters are installed throughout the facility (2 filters for the wave pool and 7 filters for the lazy river and waterslides). In India, Imagicaa is one of the pioneers to leverage this technology and mechanism as other water parks use conventional sand filtration technology, which is not as effective in terms of filtration, increases the operational cost exponentially, and occupies a larger space in the mechanical room of the facility.
After installing the Defender regenerative media filter, the facility is successfully able to maintain crystal clear water, providing an unsurpassed level of water quality and an increase in sanitation performance after each filtration cycle. The park is labeled as a premium-themed water park as it takes into account all these parameters. Now with this filtration technology they can remove 99.9% of crypto and particles down up to 1 micron. It also controls turbidity to levels generally better than those required for drinking water. There was also no need to dose flocculants such as alum in the pool to settle down the suspended solids and hence less water waste, which led to a reduction in freshwater makeup, resulting in lesser water, chemical, and power consumption as well. The park's water rides use around 1,360,000L of water on average with a flow rate of 340m3/hr per unit, and the Defender regenerative media filter can provide this flow rate.
This technology has an innovative "bumping" process that significantly eliminates the amount of backwash water going down the drain. Instead of backwashing, the Defender media regenerative filter is programmed to automatically "bump" to regenerate and fully utilize the fine-grade perlite media for a fresh start. After approximately 4-8 weeks of "bumping" the perlite may be saturated with dirt particles and hence requires a media replacement. This technology helped our esteemed customer save up to 90% on water, up to 50% on energy, up to 30% on chemicals and fuel, and up to 75% on footprint.

Results
With the scarcity of water surging throughout the country, many water parks are unable to meet quality standards. Imagicaa was able to standout on these aspects thereby further elevating brand equity to international standards. The park was able to save big on operational costs and with not having to backwash, the water park didn't have to add fresh water to recoup what was being lost by the system. This provided savings in chemical usage while increasing overall safety standards. The water was balanced on all the water rides and pools with a perfect saturation index. There was no need to add calcium hardness, alkalinity to the pool water, or any clarifying chemicals. During maintenance the system's interface is very user-friendly, helping guide the operator in replacing the media or draining of the water via its bump technology. The overall brand image of Imagicaa Water Park has been enhanced and is now labeled as best-in-class hygiene standards maintained with premium quality experience.