Customer
Ideal Fish was formed in 2013 with the sole purpose of providing American consumers with a locally produced, fully sustainable, transparent, high quality fish free from hormones, antibiotics or chemicals. All produced in a facility and environment that adheres to the most sustainable aquaculture methods available on our planet today. These are the core ideals upon which Ideal Fish was founded.

Challenge
Ideal Fish is proud to be the only producer of Branzino in the USA, eradicating the carbon footprint of importing Branzino from Europe, and supplying the US market with a prized high quality niche product. Ideal Fish operates a recirculating aquaculture system (RAS), in which the system reuses the water, via a highly technological mechanical set of procedures to filter and clean the water, creating a more sustainable farming process, and using less water, energy and space as would normally be required.

As a result, it comes to no surprise that controlling the quality of the water, is of utmost importance, as this process, left untreated, can create a breeding ground for virus and bacteria growth, as well as a generally poor environment for the fish to grow in. As the fish grow, they are graded and transferred to larger tank volume systems which then requires larger more complex disinfection and cleaning processes. The larger the fish grow, or the more biomass in the tank(s), the more waste is produced ultimately further increasing the loading of suspended solids and dissolved nutrients both in the tanks and in the general system itself.

The team at Ideal Fish reached out to the disinfection aquaculture experts at Evoqua to inquire as to the most efficient and economical disinfection solution to help remove the water impurity loadings and create a more biologically efficient system for the fish to grow in.


Solution
Ozone is a highly oxidizing gas that can remove farm water impurities such as organics, pesticides and nitrites, while reducing discoloration/tannins, thus enabling the fish to remain healthy throughout the farming process. The micro flocculation of fine solids created by ozone is also of importance in this application, as it will improve the farm's particulate removal efficiency via their filtration process. Ozone will also change the characteristics of dissolved organic compounds (DOC) by oxidation and precipitation, making it easier to remove DOC by biofiltration and sedimentation. Evoqua's disinfection team provided one MNG8X34 Ozone Generator to meet the needs of Ideal Fish.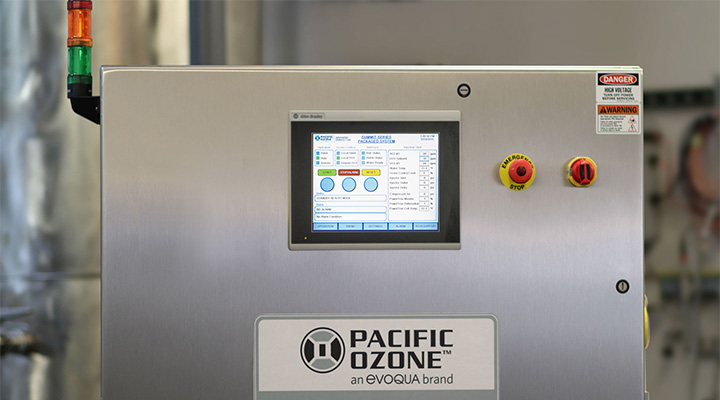 The MNG8X34 Ozone Generator
The advanced air-cooled, smart ozone module design of MNG Series ozone generators delivers powerful, ultra-flexible and precision-controllable large industrial ozone production systems from 140g/h (5lbs/day) to 1.4kg/hr (75lbs/day). Using an exclusive smart ozone module chassis design, MNG series ozone generators deliver production rates to 1.4kg/hr with programmable operating modes in 70g/h increments, while maintaining full resolution control and automatically adjusting feed gas flow rates for full efficiency and ozone production optimization. The MNG Series ozone generators also feature Powertron technology: a novel power supply design which provides a new method of control power for precision O3 output, using less energy. This innovative technology provides Ideal Fish with a quieter, stabler, and more efficient solution.
Results
After some months of use, the team at Ideal Fish saw a definite increase in water clarity and fish performance, enabling them to further increase the growing and performance parameters with controlled and precise use of the Ozone facility. It's operational parameters are now more concisely used for either individual or group tanks, due to the separate SEP systems capabilities and ramping up or down in % use requirements which have enabled Ideal Fish to have a more focused concise production control from the unit, than any previously utilized. Operations and alarm features are easy and reliable to operate in the hectic daily changing parameters of growing a live product. As product grows and an increase of ozone is needed, the adaptability provided by the smart module control makes this unit a perfect solution for the aquaculture industry. With the unit's compact modular design and easy to operate features, the solution will meet today's and tomorrow's water quality needs.