The City of Tulare, USA, located in California's world renowned San Joaquin Valley, has some of the strictest environmental regulations in the nation to protect the Golden State's water quality. Noncompliance can be costly—up to $10,000 a day. Tulare is committed to complying with wastewater discharge requirements set forth by the California State Department of Water Resources Board.
Although Tulare is a relatively small city—approximately 60,000 people—its water treatment plants handle large volumes of both domestic and industrial wastewater from six nearby dairy processing facilities including Nestlé Dreyer's, Saputo Cheese, Kraft USA, and Land O'Lakes.


Challenge
The City of Tulare originally used large aerated lagoons to aerobically treat wastewater, but as flow increased and discharge regulations became stricter, the Board of Public Utilities (BPU) and the city council decided to expand and upgrade its industrial wastewater treatment plant.
The BPU and city council wanted an efficient, low-maintenance method of treating wastewater that would meet the demands of California's environmentally sensitive water control laws, which did not involve chemical addition or expensive and labor-intensive replacement of media.


Solution
ADI Systems was selected to design and build the original wastewater treatment facility for the City of Tulare in 1989. To aid in the city's selection of a wastewater treatment solution, several pilot tests were performed on-site. This allowed plant engineers to see first-hand the expected results of ADI Systems' wastewater treatment technology.
Ultimately, the BPU and the Tulare city council selected ADI Systems and proceeded with the installation of an ADI-BVF® reactor to pretreat its wastewater. Anaerobic effluent is then discharged into two aeration basins and four waste stabilization ponds for polishing.
The facility was recently upgraded to meet increased industrial flows and more stringent effluent limits. The aerobic polishing technology also required modification and was changed to a mechanical treatment plant (sequencing batch reactor system). ADI Systems provided all engineering services for the project (with the exception of the aerobic polishing portion)—everything from the pilot study through to the facility commissioning and start-up. This included the development of specifications, drawings, construction supervision, and production of a process operating manual.
The BVF® reactor treats 2-4.4 million gallons (7-17 million liters) of wastewater per day. It is designed to handle up to 4.4 million gallons (17 million liters) per day at a chemical oxygen demand (COD) of 3,700 mg/l, which will allow for expansion.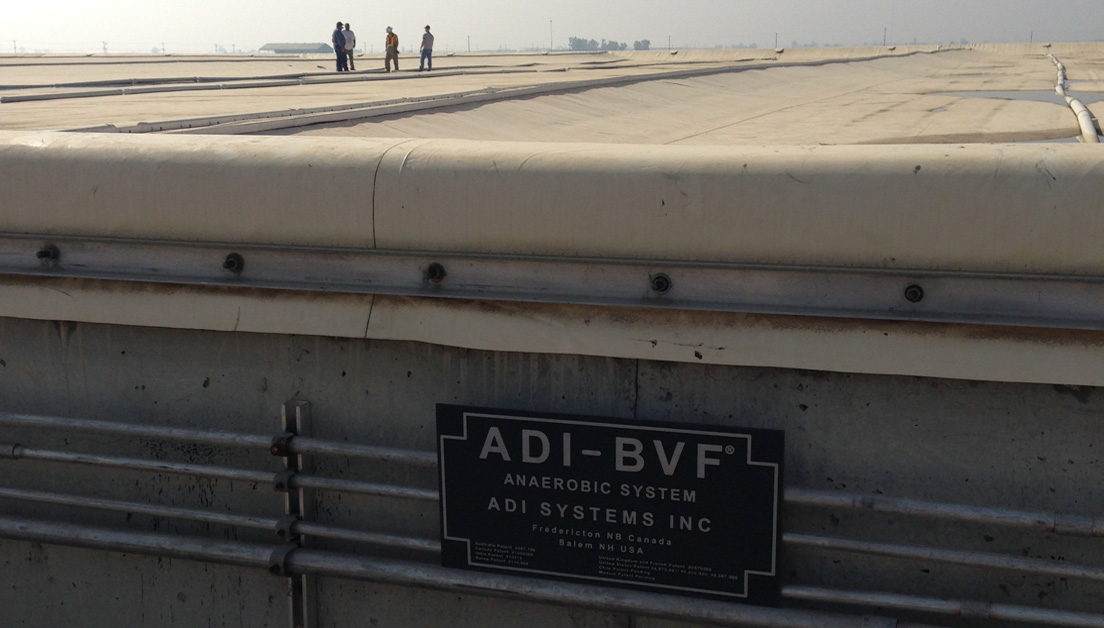 Results
ADI Systems' wastewater treatment technology was the most cost-effective means of handling the City of Tulare's increasing wastewater loads while reliably meeting the strict effluent limits enforced by the state of California. The BVF reactor removes over 90% of biochemical oxygen demand (BOD) in the wastewater so that the city's natural water resource is preserved.
This low-rate anaerobic technology not only helped the City of Tulare comply with environmental discharge limits, it also helped the city recover green energy potential. A 31 million gallon (117 million liter) lined basin converts organic matter found in the city's wastewater into biogas as part of the anaerobic treatment process.
The biogas produced from ADI Systems' waste-to-energy solution allows the city to be more self-sustaining and reduce the environmental impacts of electricity use. It provides heat for the digester and provides the City of Tulare with green energy that significantly minimizes energy consumption.