DAVCO­™ Field-Erected System Wastewater Treatment Plants
See All Aerobic Systems
Turnkey wastewater treatment solutions in months instead of years
---
Offers quick installation—the permanent field-erected biological treatment systems are pre-assembled and then erected at the job site
Requires less physical space, less yard piping and electrical conduit, and less maintenance than site-built concrete systems
Easily incorporates a wide range of biological process options and special configurations such as the unique dual-path design
Proves a viable option for colder climates when partially or fully buried to protect from freeze damage
Discontinued product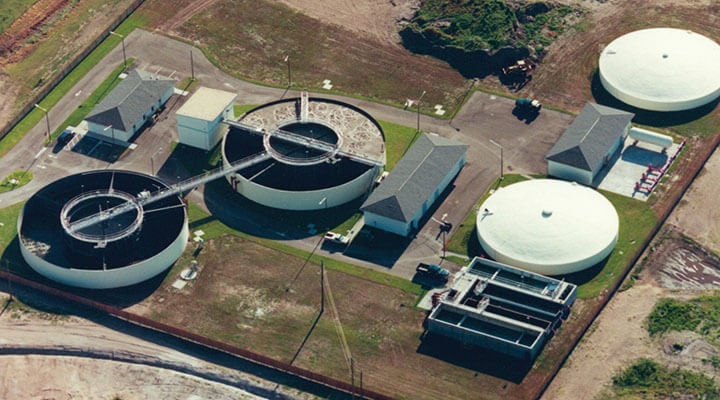 Turnkey wastewater treatment solutions in months instead of years
Offers quick installation—the permanent field-erected biological treatment systems are pre-assembled and then erected at the job site
Requires less physical space, less yard piping and electrical conduit, and less maintenance than site-built concrete systems
Easily incorporates a wide range of biological process options and special configurations such as the unique dual-path design
Proves a viable option for colder climates when partially or fully buried to protect from freeze damage
Discontinued product
Description
DAVCO™ field-erected system is a solution for treatment plants that are ideal for the reduction of biochemical oxygen demand, total suspended solids, total nitrogen, and phosphorus. Evoqua's DAVCO product and service teams have worked with municipalities, developers and engineers for more than 50 years to deliver turnkey projects and solutions within months instead of years. DAVCO field-erected treatment plants offer optimum application flexibility relative to physical size, flow rates, treatment levels, and site requirements. Treatment capacities range from 0.1 to 5.0 million gallons per day (mgd) and are available in a variety of configurations, including activated sludge processes, sequencing batch reactors, and oxidation ditch configurations. Treatment plant material options include carbon steel, galvanized steel, stainless steel, concrete, or any combination of these materials. Overall capital, maintenance, and operating costs can be reduced with a shorter concept-to-completion timeline. Full turnkey, retrofit or upgrade solutions are also available.
Features
​Rehab or Retrofit of existing equipment (regardless of manufacturer)
Single-source responsibility
Over 50 years of experience and process expertise
Equipment engineering and quality manufacturing
Short on-site completion timeline
Complete technical support
Aerobic Treatment System Type
Activated Sludge, Separation/Clarification
Davco™ Field-Erected Treatment Plant Video
Watch this time-lapse video featuring the construction of a DAVCO™ field-erected treatment plant going from land clearing to commissioning within six months!
Watch Now