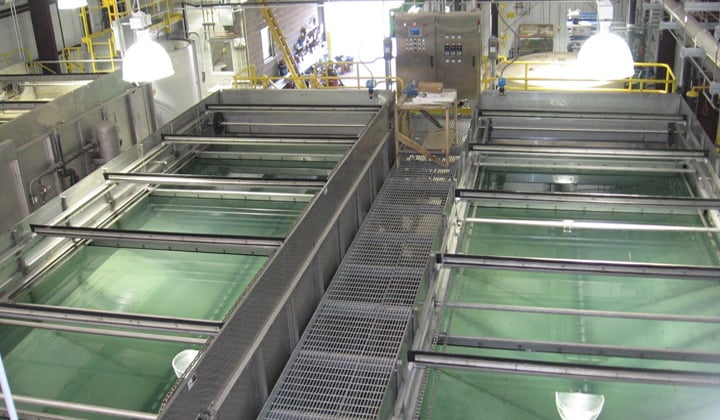 RT Series Packaged Dissolved Air Flotation Systems
Discontinued product
Description
​Dissolved air flotation (DAF) is a proven and effective physical/chemical technology for treating a variety of industrial and municipal process and wastewater streams. DAF systems are commonly used for the removal of oils & greases and suspended solids to meet a variety of treatment goals including:
Product recovery and reuse
Pretreatment to meet sewer discharge limits
Pretreatment to reduce loading on downstream biological treatment systems
Polishing of biological treatment effluent
Thickening of biosolids
One of the most common DAF applications is for the pretreatment of wastewater to remove suspended solids and oils and greases prior to discharge to a municipal sewer or a biological treatment system. For example:
A Pretreatment DAF can be used by an industrial discharger to meet specific limits for oil and grease and/or suspended solids set by a municipality (e.g., to meet a discharge limit of 100 mg/L O&G, etc.).
An industry may need to use a Pretreatment DAF to remove contaminants (e.g., product solids, oils and greases, heavy metals, etc.) that would negatively impact a biological wastewater treatment system downstream.

In most cases, the wastewater contaminants must be chemically flocculated in order for the floatation system to remove them. Pretreatment DAF is used in about every industry class. DAF has proven to be very effective for the removal of biological solids from wastewa+K625ter streams. Some of the advantages over traditional, gravity clarification include:
Smaller footprint and more rapid implementation
Higher sludge solids content (4%TS vs. 1%TS) resulting in a much lower sludge volume
Ability to handle bulking solids that tend to float
More reliable effluent quality
Rental Equipment
We can meet your need for an entire temporary treatment system, combined with ancillary equipment. We can provide a DAF as well as mixer tanks, pumps, catwalks, and other wastewater treatment equipment and solutions.
For more information fill out this form to receive a response from our experts.
Features
RT Series packaged DAF systems have incorporated over twenty-five years of continuous improvements with multiple installations in a variety of applications. RT systems provide unique standard features including:
Fifteen (15) different models to meet a variety of applications and flow ranges (10 to >2,000 gpm)
Complete, skid-mounted design for ease of installation
(no field assembly required)
Rectangular profile for maximum space utilization
Rugged tank design that will not flex
Superior performance without the use of plate-pack that
can foul or collapse
Quality drive and pump components for long-term
reliability
An industry-leading HELLBENDER®‰ whitewater system
that is both efficient and simple to use
Large, internal float hopper eliminates the need for an
external float tank
Standard RT series options include:
Available in 304 or 316 SST tank construction
Recycle Piping available in PVC, CPVC, 304 SST,
316SST
Several controls platforms (Motor Starter, Relay Logic,
Integrated Controller, Allen Bradley PLC/HMI)
Aerobic Treatment System Type
Dissolved Air Flotation: Applications and Design Best Practices
Designed as a learn-at-your-desk over lunch, this quick 30-minute webinar skips the 'what is a DAF' and goes right into the 'how-to' and why as it relates to Pre-treatment, Biological Solids Clarification and Phosphorus Removal. You will walk through 3 case studies which highlight each of these ideas to learn how best practices were put into place. Presented by two long-time DAF experts.
View Video