J-Press® Plate Shifters
See All Filter Presses
J-Press® Plate Shifters are engineered systems to provide efficient cake removal.
is the minimum order quantity for this product. Please check quantity and add to cart again.
Request Proposal
---
Discontinued product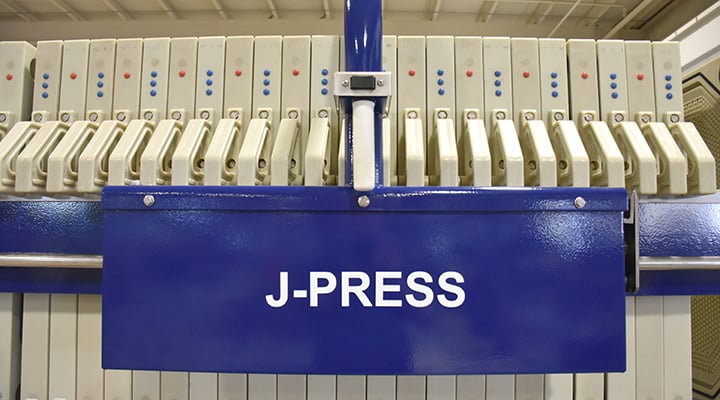 J-Press® Plate Shifters are engineered systems to provide efficient cake removal.
Discontinued product
Description
J-Press® filter presses are available with plate shifting systems engineered to provide efficient cake removal under a variety of production requirements. These systems range from semi-automatic to fully-automatic mechanisms with bump and weigh capabilities, and integral cloth washers.
The filter press goes through its cycle of separating solids from a slurry. At the end of the cycle the filter plates are separated - or shifted - to allow the filter cake to drop into a receptical. The plate shifter facilitates this process. Plate shifters assist filter press operators discharge filter cake from between the filter press plates.
Evoqua offers manual plate shifters, semi-automatic plate shifters, and fully automatic plate shifters for filter presses of all sizes. Our plate shifters even come with a bump mechanism, if specified, to help discharge the cake from the press each cycle. Our MC Press® filter presses for the mining industry even come with a shaker which facilitates the discharge of the filter cake.
We have extensive experience retrofitting our Evoqua plate shifters on other brands of filter presses. Our plate shifters and the accompanying systems are superior and are often found on other filter presses.
Automatic Pry and Shift
These electric shifters automatically sequence through the plate stack, separating each plate for cake release and subsequent cloth washing, if desired.
Automatic Pry, Bump and Weigh
Automatic shifters on sidebar presses can be equipped with two additional shifting features; one that "bumps" the plate as it is shifting to dislodge difficult cake. The mechanism can also be equipped with a sensor that weighs the plate and compares it to a learned weight to determine if it is free of any remaining cake.
Semi-Automatic
The semi-automatic shifter is rolled into position by the operator, who then activates the shift cycle by pressing the control switch. The plate separator pneumatically lifts between the filter plate handles, then pushes the plate away from the filter pack, allowing the cake to fall.
Multi-Plate Pull
J-Press® filter press can be configured with an innovative multi-plate pull shifter that opens the plate stack as the press opens. Ideal for applications where a firm, non-sticky cake is the norm, and where automatic cloth washing is not required
Ergonomic Plate Shifter
This plate shifter can be retrofitted onto other models of plate shifter, regardless of brand.
Its handle is built into the side of the mechanism for easier handling, and the release button is easily reachable. The shifter mechanism is designed for right- or left-hand installation, depending on where your filter press is in the facility, or how it's currently configured.