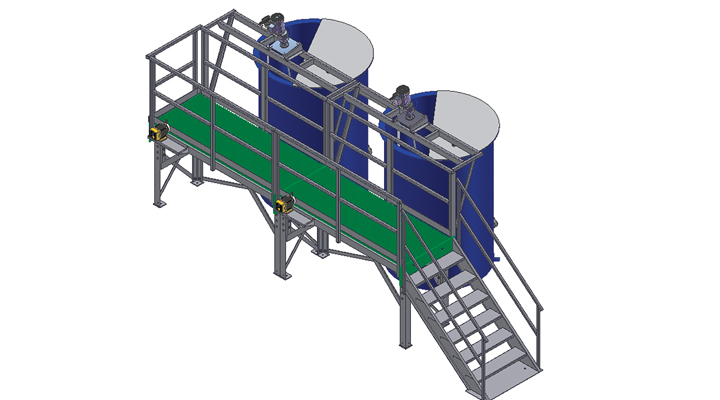 CN (FRP tanks) and CNP (HDPE tanks)
Discontinued product
Description
The Cyanide Destruct CN (fiberglass tanks) and CNP (HDPE tanks) systems include two reaction tanks that are either skid-mounted or supplied with a catwalk and completely piped and wired. The two tanks are designed to work in series. Wastewater containing cyanide will be pumped or flow by gravity into the first tank and then overflow to the second tank. Depending on the other contaminants in the wastewater, the pretreated wastes from the second cyanide destruct tank can flow to the chemical reaction system prior to a microfilter or clarifier.
The basic reaction system configuration has each tank equipped with one mixer, two chemical feed pumps, one pH probe, and one ORP probe.
On systems less than 1,000 gallon capacity, the mixing tank is mounted on a skid with a frame. The frame supports the mixer, probes and chemical pumps. The electrical control box, piping manifolds, conduit and wiring harnesses are also attached to this frame. When necessary, steps are supplied for operator access to the system.
Systems above 1,000 gallons are designed with a freestanding catwalk frame. The mixing tanks are slid into place underneath the catwalk frame.
Features
Fully assembled at the factory
Factory tested
Units are either skid-mounted or stand alone
Integrates with other Evoqua offered wastewater products