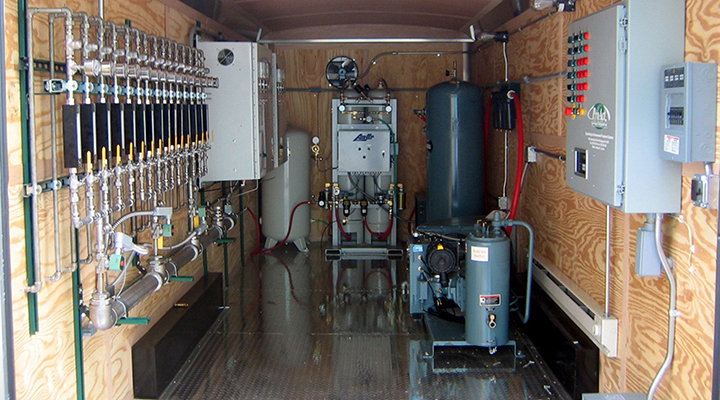 Mobile and emergency soil treatment using an enclosed mobile ozone treatment system.
Discontinued product
Ozone Remediation Systems
Description
Evoqua offers completely enclosed ozone injection systems available for accelerated in-situ site remediation. At Evoqua we have designed the world's largest mobile ozone treatment system, which is capable of injecting up to 300 lbs. of ozone into the ground per day. Ozone sparging can reduce site clean-up time by up to 3 to 5 times by oxidizing difficult to treat compounds like MTBE, PAH's and phenols. Ozone sparging can also address contaminated soils that are difficult to get to or cannot be excavated. Ozone sparging is environmentally and operationally safe.
Evoqua has a fleet of Ozone Injection Systems, designed with 12, 15, and 18 well manifolds. Each leg includes a flow meter, control flow valve, and pressure gauge to allow individual flow control to each well. The manifolds are set up in three banks with the flow to each bank programmed by the PLC to automatically alternate between banks. Ozone systems come complete with ProControl PLC, phone line connection and remote monitoring capability.
These systems can be easily mobilized to your project site anywhere in the United States. Our systems are complete turnkey units. Evoqua designs its systems to run 24 hours a day, 7 days a week with minimal downtime for maintenance and servicing of equipment. By maintaining a high level of runtime, sites get cleaned up quickly. Minimal downtime also means lower site O&M costs. This all translates to lower clean-up costs to your client.
Our experienced environmental treatment specialists have the ability to help design the properly size an ozone system for your individual jobsite. Evoqua also provides system setup, start up, and technical support for all our treatment systems.
Contact us to find out more and discuss the detail of your project!
Types of Remediation
In-Situ Groundwater Remediation
Land Remediation
Pump & Treat Groundwater Remediation