OSEC® Systems
On-site electrochlorination provides valuable security of supply by generating a sodium hypochlorite solution on-site, on-demand for the treatment of water. Electrochlorination produces a sodium hypochlorite solution through the electrolysis of salt (brine). The safe and simple method is widely adopted by water utilities, commercial pools, datacenters, cooling towers, and more, to eliminate harmful microorganisms in water and has several advantages over other chlorination and other treatment systems. Key among these advantages are safety and sustainability. Chlorination via onsite electrochlorination can simplify your process and allow you to focus on your production.
What is the OSEC® System and how does it work?

OSEC systems generate a low pH sodium hypochlorite solution by electrolyzing a brine solution directly on-site. The resulting solution contains <1% sodium hypochlorite and can be dosed directly into the water system. The sodium hypochlorite is prepared as it is needed with no long storage periods. OSEC systems provide you a powerful chlorine oxidant in a simple and sustainable process. The only chemical required on-site is salt which is non-hazardous and can be conveniently purchased in 25 kg bags or as a powder by road tanker deliveries. It is also widely available from many suppliers which ensures security of supply. With insufficient treatment of the water used equipment surfaces and process infrastructure can be corroded. When the water used in the cooling process is treated by best practices you can REDUCE:
Energy Consumption (PUE)
Water Consumption (WUE)
Operational Costs
Down Time
Compliance Issues
Rendering of OSEC® L Installation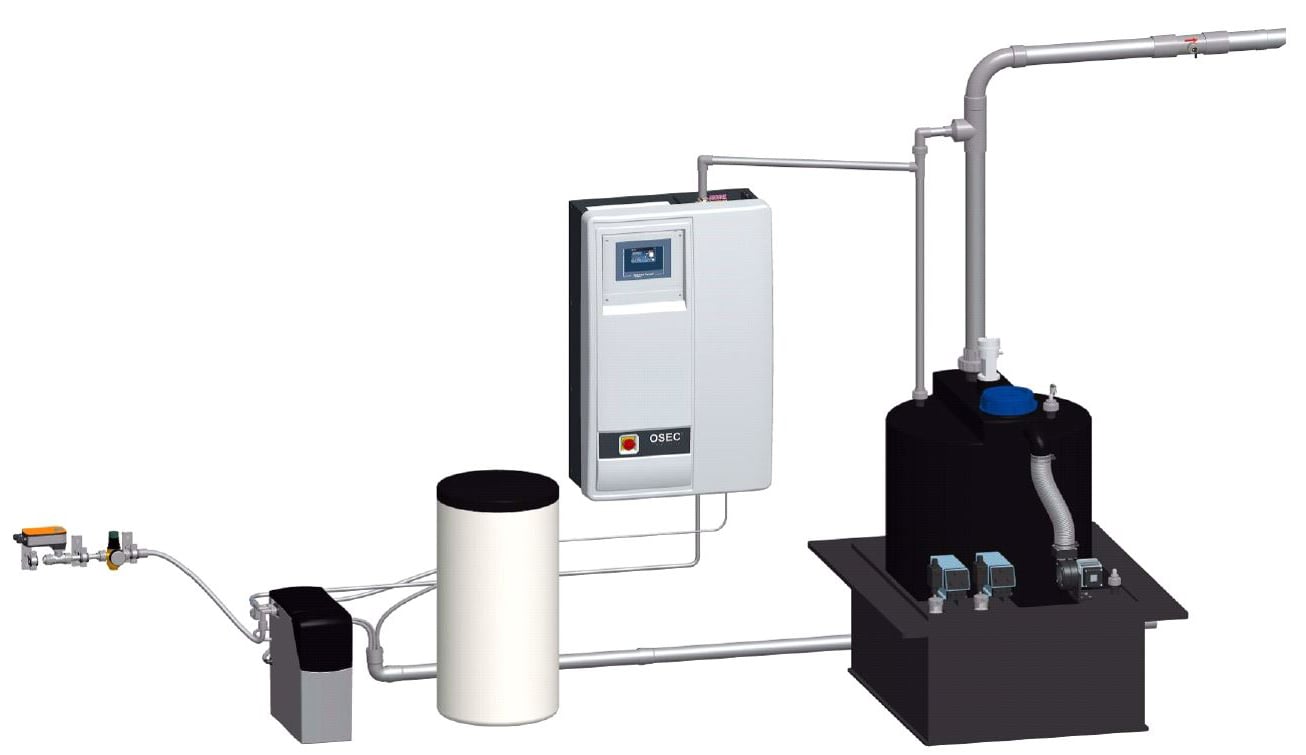 Benefits of On-Site Electrochlorination in Cooling Tower Applications
SAFE
Effective and proven in treatment applications globally
Mitigation of safety risk
No handling of dangerous chemicals: Just Salt, Water, and Electricity
EFFICIENT
Storage of low quantity of disinfectant for economic production according to demand
Negligible impact to PUE performance
Effective treatment, minimizing risk of cooling shutdown
SUSTAINABLE
Hypochlorite solution at stable concentration always available*
Ability to innovate by leveraging "reclaimed water"
Improved of accessibility to raw materials
Operational independence
*Unit annually tested by NSF 61 Standards, validating performance at .7% concentration of sodium hypochlorite
Safety and Operational Challenges with "Bulk" Sodium Hypochlorite
ACCIDENTAL MIXING
Rate of accidents are on the rise
Need to rely on suppliers and drivers, in addition to maintaining best practices on site to ensure safe handling of bulk hypo
Accidents can cause shut downs and can even result in serious human harm, including death
OFF GASSING
Off gassing can arrive at the pump head causing Pump Binding
Off gassing/expansion in piping can cause binding or leaks
Risks with degas valves, which are necessary for lower capacity bulk hypo pumps to vent the gas that makes it to the pump head
These issues can lead to extended down time, more regular maintenance intervals or even accidents.
REGULAR HANDLING
Eye Contact: NaOCl can irritate & burn the eyes
Skin Contact: NaOCl is corrosive, causing burns and irritations that can worsen with time
Inhalation: Can cause headaches and respiratory issues, sometimes severe
CREATION OF ADDITIONAL MAINTENANCE
Through the degradation of bulk hypo we can see Formation of Salt crystals
The formation of salt crystals can bind equipment or make maintenance challenging.
Safety Highlight
With OSEC® Systems you do not need to handle NaOCl, as it is made safely with just water, salt and electricity!
Degradation with Bulk Sodium Hypochlorite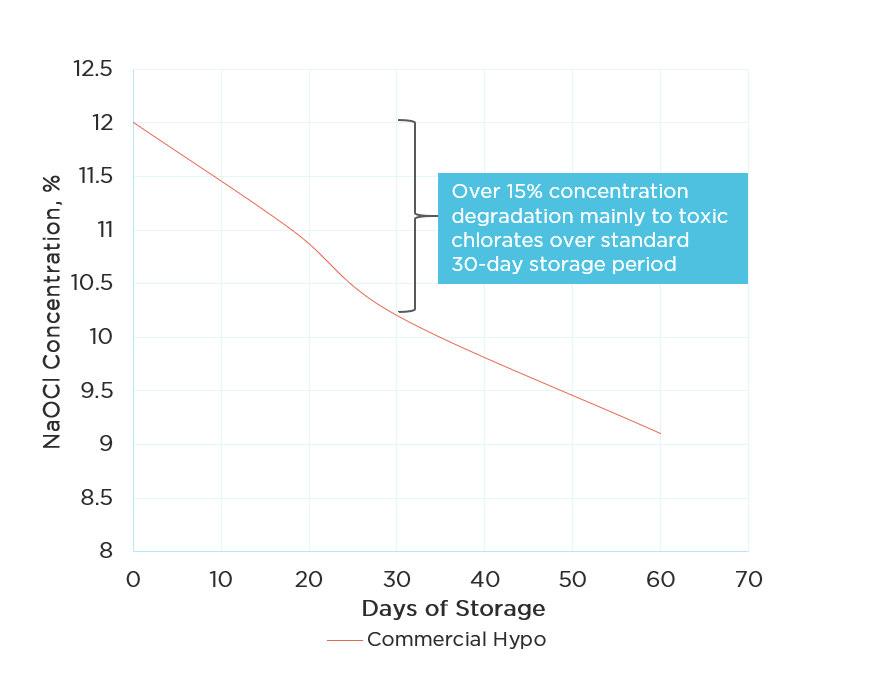 Benefit Highlight
You can attain reliable, proven, and more cost-effective treatment with OSEC Products!
Safety and Operational Enhancement with OSEC


REDUCTION OF SECURITY RISKS
Government agencies around the world have identified chemicals, at higher concentrations, to be a large security risk to facilities and the surrounding communities where shipments pass through.
There is also security through improved accessibility of salt, water, and electricity.
BATCH MODE OPERATION
Only operate the OSEC unit when you need to based on the realistic demands of the facility. This can present waste and improve seasonal demands.
pH IMPACT TO DISINFECTION POTENTIAL
Bulk Hypo has a higher pH than OSEC system and potable water, thus can start to raise the overall pH and creating more OCl- ions, reducing the efficiency of the disinfection process.
ACCESSIBILITY TO PRODUCT
Salt storage is easier, safer, and more reliable storage than the same time period for hypo.
In a pinch or challenging times (weather, etc), solar salt can be available from many local retail locations.
OSEC systems simplify disinfection storage and give greater operational flexibility when necessary. Sustainable through Independence.
Safety Highlight
With OSEC® Systems, operation is more efficient, safer, and sustainable.