Ultrapure water (UPW) is a critical component within the manufacturing process of the high-spec microelectronics sector. High levels of total organic carbon (TOC) within the process stream can negatively impact this manufacturing process, leaving residues to form on components that, in turn, cause micro-defects. Wayne Powell, Industrial Disinfection Sales Manager at Evoqua Water Technologies, discusses TOC removal and the incredible benefits of UV disinfection in microelectronic manufacture.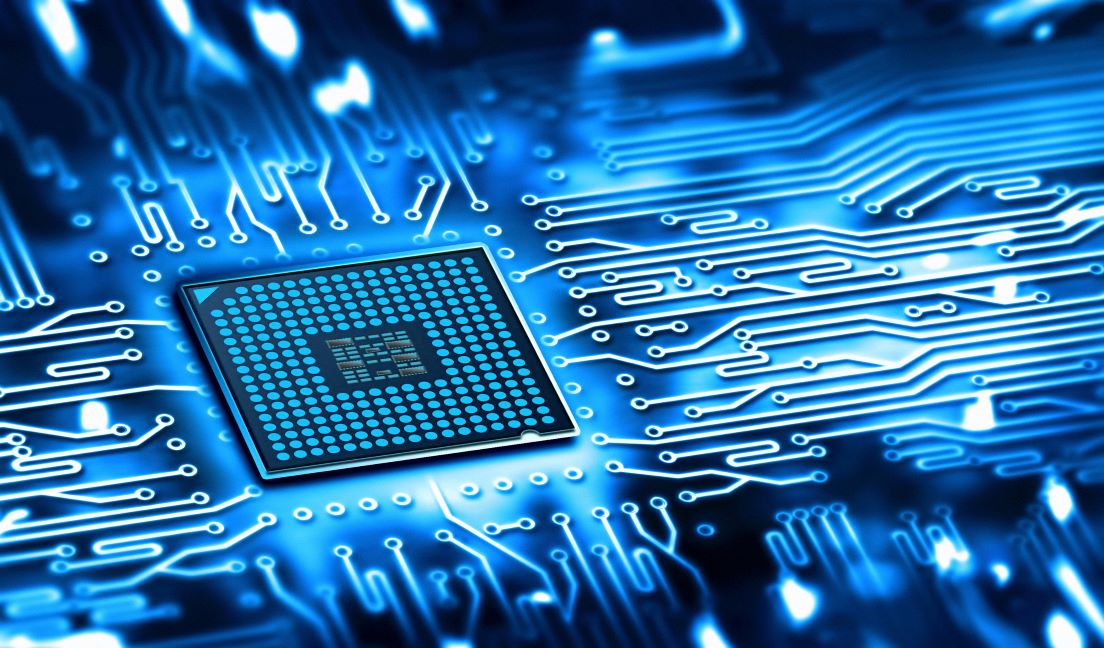 The widely-publicized microchip shortage has had immense and far-reaching consequences for numerous sectors, from consumer electronics to the automotive industry. With record levels of demand for the $550+ billion industry and limited global supply, the importance of production efficiency for the world's semiconductor plants is at an all-time high[1]. This intense focus on productivity is forcing manufacturers to further minimize losses, eliminate lower-quality products and maximize plant output.
With such an important commercial opportunity, reducing the number of sub-standard or faulty chips is critical. To reduce this risk, improving the quality of UPW in microelectronics manufacturing is an important step. To help reach the level of quality and purity required, the TOC within the UPW must be practically eliminated to ensure any organic particles are removed from the process. Otherwise, this could lead to damaging and costly deposits left on the silicon wafers.
We understand that within the microelectronics industry, there is a constant pressure to improve and innovate to stay one step ahead of the competition. By striving for this goal, new innovations and developments are critical to enhancing the quality and quantity of products wherever possible. To this end, high-performance ultraviolet (UV) disinfection is the ideal solution as part of the manufacturing process.
Conventionally, UV disinfection works by damaging the DNA of bacteria and preventing reproduction. A chemical-free process, UV disinfection is becoming increasingly popular because it does not introduce residual compounds to the water and has minimal environmental impact. Within the microelectronics industry, however, it can also be used to eliminate TOC.
Evoqua has developed its VT TOC Range of ETS-UV™ Generators, each of which has been designed for superior TOC reduction in UPW processes. The ETS-UV™ VT Series exposes the UPW to 185nm wavelength UV light. This process creates a short-lived hydroxyl radical, which breaks down TOCs into carbon dioxide for significantly improved UPW quality.
With 185nm wavelength UV critical to efficient and effective UPW disinfection, Evoqua's VT Series offers an industry-leading solution. With high-quality construction and materials, Evoqua's lamps have a long life and require fewer total lamps for a given flow rate.
The VT Series helps to reduce capital and operational expenditure while delivering one of the most effective and efficient UPW disinfection solutions available on the market. The chemical-free process allows for a more sustainable approach to TOC reduction, and our Spectra 3 control allows the operator to tailor the disinfection dose delivery in real-time based on plant requirements by means of variable power control.
The Evoqua VT TOC range is available in four models, covering a range of capacities. All models are designed to maximize the surface-area-to-volume ratio for improved treatment efficiency and are fully configurable to meet each customer's specific requirements.
If you would like to learn more about the Evoqua VT Series and how it can improve the efficiency and effectiveness of UPW treatment in microelectronics plants, please get in touch with Dave McCarty at david.mccarty@evoqua.com
[1] https://www.statista.com/statistics/266973/global-semiconductor-sales-since-1988/
Evoqua UV disinfection generator systems undergo third-party validation testing in accordance with the UVDGM (USEPA, 2006). Validated products are tested to confirm a minimum inactivation equivalent of 3 log (99.9%) for microorganisms in accordance with NSF/ANSI 50 and the UVDGM. Performance is not claimed nor implied for any product not yet validated; unvalidated products use single point summation calculations to provide delivered dose recommendations. Performance limitations depend on feed conditions, overall installed system design, and operation and maintenance processes; please refer to Operations Manuals. For more information: contactus@evoqua.com