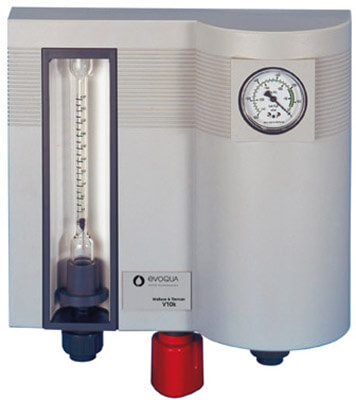 Chlorine gas (Cl2) is a highly effective oxidant and a relatively economical option for disinfection. Since Charles F. Wallace and Martin F. Tiernan discovered the first chlorine gas feed system in 1913 the Wallace & Tiernan® brand is a synonym for safe and reliable disinfection of water. Chlorine can be safely transported, easily applied, measured, and controlled. See below for more frequently asked questions regarding Gas Feed disinfection.
Why Cl2 Gas Feed disinfection?
Cl2 is a highly effective oxidant and a relatively economical option for disinfection. Chlorine can be safely transported, easily applied, measured, and controlled.
Why Wallace & Tiernan Gas Feed systems?
Chlorine gas has been the predominant chemical for the disinfection of water since our founders Charles F. Wallace and Martin F. Tiernan installed the first chlorinator in New York over 100 years ago. With more than 55,000 installations globally, Evoqua's gas feed line continues to lead the market using the latest remote vacuum and solution feed technology, designed with "V" notch high precision dose control.
Where is Gas Feed Used?
There are numerous applications in municipal or industrial water treatment, the disinfection of potable and swimming pool water, the treatment of cooling water and industrial wastes, and much more.
Some typical applications for gas feed include:
Swimming Pools and Water Parks
Cooling Towers
Potable Water
Utility Water
Water Reuse
Wastewater
What are some advantages of the Wallace and Tiernan Gas Feed System?
Advantages of Gas Feed include but are not limited to:
All remote vacuum technology
Differentially regulated operation
Safe, simple, and reliable disinfection: chlorination and dichlorination
+ 4 % of indicated accuracy
Destroys a broad range of microorganisms
1: 20 Scalability and low cost
Cl2 does not degrade and remains at a consistent concentration under pressurized cylinders
Low maintenance cost
How Does Chlorine Gas Injection Work?
Gas Chlorination is one of the most economical disinfectants available as gaseous or liquid chlorine supplied in cylinders or ton containers. Using a remote vacuum-operated gas feeder, a chlorine solution is prepared on-site from chlorine gas and water. Evoqua's range of vacuum gas feeders features the proven V-notch flow control technology for safe and accurate dosing and control of gaseous chlorine and other gases such as ammonia and sulfur dioxide.
What are the available technologies in Gas Feed?
The technologies are mainly categorized by 1) Sonically Operated and 2) Differentially Regulated Feeders. The Wallace & Tiernan product range includes both types. From a CAPEX point of view, the sonically regulated feeders are the economical option for small capacity as up to 4kg/hr however, the high capacity compromises on accuracy and reliability of dosing, it is to be noted that the energy consumption is significantly high as the motive water requirement are higher in sonically operated feeders hence our recommendation is to go for Differentially regulated feeders.
How is the Capacity of the Gas Feeder Determined?
The capacity of the feeder is determined by the residual demand of application viz. Drinking water, wastewater, industrial water, etc., and the flow of peak flow of water. The dose unit is mg/ltr or PPM. The capacity of feeders is available in both metric and imperial units.
How do you Confirm Disinfection Performance?
The Cl2 gas disinfection performance can be determined instantly on-site with the 24-hour online measurement of residual Cl2. The consumption of Cl2 can be cross-checked with gas flow measurement from the feeder as well as reliable gas cylinder weighing systems.
Is Gas Feed Safe?
Cl2 gas is nonflammable and non-explosive. The remote vacuum technology of the Wallace and Tiernan system does not permit the gas to escape in case equipment fails or piping ruptures on the feeder side. There are several safety interlocks for equipment handling liquid Cl2 and pressure-type manifolds. We now have Emergency shut-off drives (ESD) mounted directly on Cl2 cylinders to isolate the source of gas within 3 seconds when a leak is detected.
Can Gas Feed help with my Company's Sustainability Efforts?
The Wallace & Tiernan® Cl2 gas feed system supports the three-dimensional concept of sustainability, economical operation, safe and healthy, precise dosing, and monitoring to maintain water quality and environmental regulations. It is therefore one of the appropriate approaches to meet the growing population demand for safe drinking water in developing regions and maintain the residual level till end users tap into the aged distribution networks of developed regions.
Who can I connect with to learn which gas feed system is best for me?
Selecting the right gas feed equipment and safety accessories can ensure simple and reliable disinfection dosing, easy maintenance, and total safety for the operating personnel.
We have a dedicated team ready to help answer any questions you may have about gas feed applications. Here are just a few of the dedicated professionals who would love to connect on how gas feed right for your application:
Connect with Shailesh Powar on LinkedIn
Connect with Joe Ciurlino on LinkedIn
Connect with Bryce Possiel on LinkedIn
Connect with Jonathan Dick on LinkedIn
References
For more information on disinfection performance and validation, click here.