Hair and lint strainers are necessary to protect the pump from any damaging materials settling in the pool and its plumbing. If the pump or other equipment downstream is damaged, it can result in lower system efficiency and a shortened lifespan for critical equipment.
It's vital to protect your investment. The pump is the "heart" of your pool system, working to swiftly move water to the necessary areas of the system. While there are many strainers on the market, a high-quality, heavy-duty strainer is preferred to optimize the removal of large debris at high flow rates with minimal pressure loss.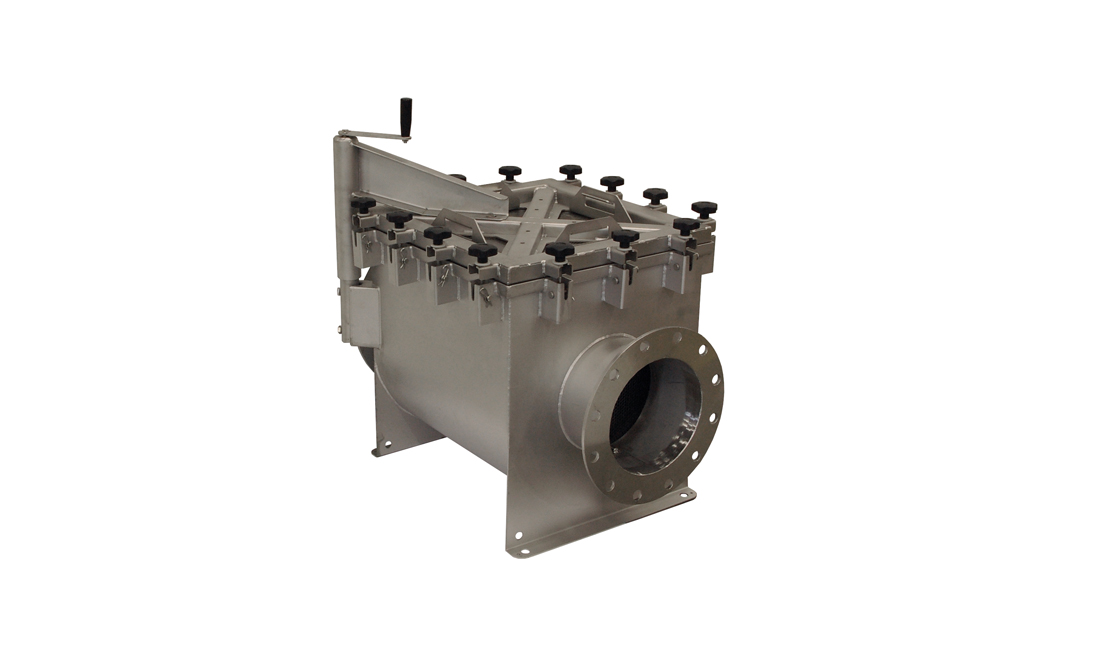 Neptune Benson's ProStrainer® System is the first strainer to be designed with a dual basket, high-capacity, flow straightening, and air evacuator all in one product. The combination of these benefits allows the ProStrainer System to operate at its optimal performance for an extended period of time. Significantly more effective and efficient than traditional pot strainers, the ProStrainer System has revolutionized pump protection through its deep dual basket and low-profile design. This allows it to be one of the most efficient and energy saving strainers on the market.
Constructed from T316SS, the ProStrainer System filters without disrupting the natural flow path of the water, allowing operators to attain the lowest total operating cost through maximizing reliability, minimizing service/downtime, and optimizing recirculation pump performance.
Delivering a Long Lifecycle and Less Maintenance
Where the Neptune Benson ProStrainer System differs is its ability to more efficiently separate debris and reduce pump cavitation. Cavitation is a damaging action that can sometimes occur within a pump. This is when air bubbles enter inside a pump creating repeated shock waves that erode the components. The ProStrainer System is designed to protect against cavitation by slowing and straightening water as it enters the pump allowing debris to separate based on size and weight. Heavier debris settles to the bottom, lighter debris floats to the back panels, and air rises to the top where it eventually forms an air bubble. When the accumulated air reaches a certain size, the pump collapses the bubble and pulls it through the volute in one accelerated action. This process dramatically reduces pump cavitation, therefore protecting and extending the lifecycle of equipment. The ProStrainer System's Horizontal Laminar Flow (HLF) Technology also contributes to removing cavitation which reduces premature impeller wear and tear and extends the pump life.
Our high quality ProStrainer System also delivers less maintenance throughout the course of its lifetime. The increased strainer capacity allows the strainer to hold significantly more material due to the size of the two baskets. The ProStrainer System has open area ratios up to 300% greater than traditional pot strainers which translates into much longer loading cycles. On average, compared to a pot strainer, the ProStrainer System requires cleaning only once a week versus once a day. The ProStrainer System is ideal for all applications including outdoor pools and fountains with heavy loading of materials to their strainers.
In addition, the Neptune Benson ProStrainer System promotes best in industry Net Positive Suction Head (NPSH) for improved pump performance and can reduce pump power demand requirements. The strainer's exclusive "Bag Grabber" reduces the chance of major flow blockage by shielding against large debris. In parallel, the ProStrainer System's two-basket design automatically balances uniform directional flow for extended run and reduced maintenance time.
Features:
All stainless-steel components
Open area ratios beat traditional pot strainers by up to 300%
Two basket design for extended run time and reduced maintenance time
Lowest profile for easiest strainer retrofitting
Adjustable draw latch lid clamping system
Integrated lid handles for easy and safe service
Integrated mounting holes built into feet
Clear lid provides easy inspection
Easy access external flush and clean out plug
Horizontal Laminar Flow (HLF) creates clog free by-pass design
Small industry footprint
Grounding lug hole
Neptune Benson's ProStrainer System's standard series comes in all flange sizes. The reducing series allows for a flange size to match the pump, while crank operated davit delivers quick and easy access even on larger models.
Learn more about Neptune Benson's ProStrainer Hair and Lint Strainer.