1. What is the history of Magneto Special Anodes and experience with electrode technology?
Magneto Special Anodes is a leading manufacturer and innovator of inert Titanium based anodes with customized active precious metal coatings for the electrochemical industry. The history of Magneto Special Anodes dates back to 1957 – when Dr. Henri Beer developed the mixed metal oxide coating for titanium anodes. Magneto has been building expertise in this field for over 60 years and this is reflected in our innovation and development of anodes for the electrochemical industry.


2. What industries and applications are of key focus?
Magneto's electrochemical experts collaborate with global original equpment manufacturers' (OEM's) and system integrators to develop customized anode solutions. Anodes are available in a wide variety of configurations, which include tubular, ribbon, wire, mesh, sheet or plate to meet product or process requirements. Our anode experts work with OEM's and system integrators to understand applications and evaluate product or process specifications and parameters to determine specific anode designs based on conditions which include, electrolyte composition, temperature, current density, and lifecycle.
We can provide solutions for electrowinning and recovery, water treatment, metal plating, and galvanic impressed current corrosion protection or impressed current cathodic protection (ICCP) for onshore and offshore structures.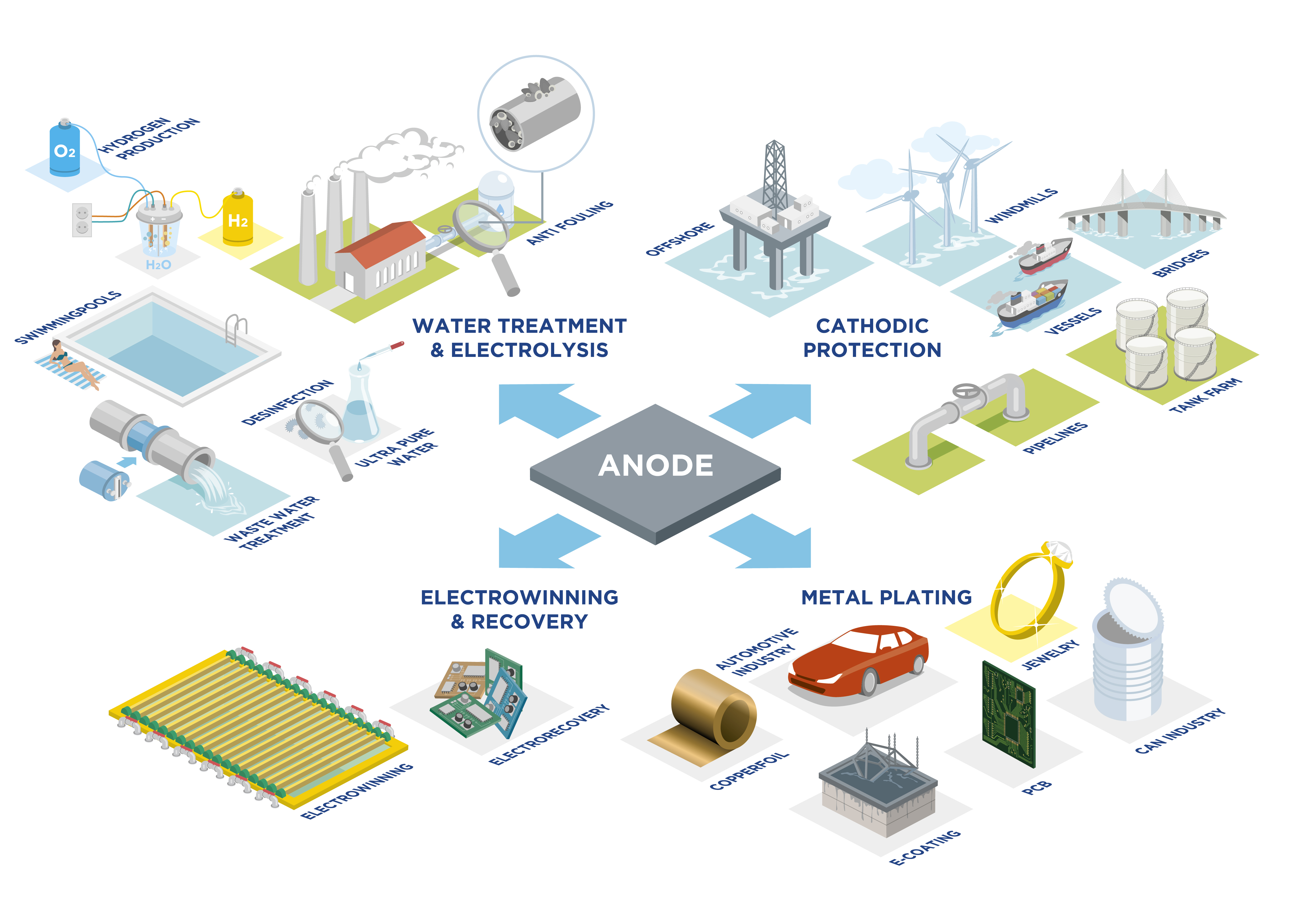 3. What is Impressed Current Cathodic Protection (ICCP) and what applications is it used?
ICCP is an electrical process for protection against galvanic corrosion. ICCP systems can offer permanent and automatic protection for off-setting galvanic effects that cause corrosion and attack wetted surfaces - of both mobile or fixed structures. Applications for our anodes in this market include:
Offshore: We provide a variety of anodes suitable for oil rigs, offshore platforms, jetties, FPSO's – we provide customized anodes for specific application conditions and lifetime requirements.
Wind Farms: Anodes are provided for rust formation protection for both on-shore and off-shore operations.
Vessels: ICCP is also a popular solution for protecting marine vessel hulls from rust formation – Magneto Special Anodes has been a solutions provider to the U.S. Navy and U.S. Coast Guard for over 50 years.
Then there's Steel in Concrete – steel reinforced concrete is used in all kinds of infrastructure and buildings all over the world.
Pipelines are used to transport valuable resources and Magneto Anodes have been a long-trusted resource all over the world – to ensure a long lifetime for this infrastructure.
Tank Farms: Magneto coated titanium anodes in the form of wires, tubes or rods, are used on ICCP applications to protect the integrity of tank bottoms – which are so important for industrial liquid storage.
To realize a continuous current electrical conductivity for ICCP applications to be effective, titanium anodes are applied with a thin layer of platinum or KERAMOX® mixed metal oxide (MMO) coating. These coatings serve a wide range of output current densities, while coated niobium anodes are well applicable at high voltages. Our KERAMOX coated MMO anodes for ICCP applications, are certified by DNV-GL in accordance with NACE TM0108-2012 standards.


4. What will the key focus be for Evoqua's Magneto Special Anode's product family in the future?

Our focus is always on quality in all steps of the manufacturing process to assure our customer's a superior, reliable product which is guaranteed by our integral quality management system.
Magneto Special Anodes are consumed in milligrams per ampere-year and are have been proven for their exceptional durability, lower life-cycle cost and long-life. Our MMO and platinum coatings offer an energy efficient, corrosion resistant solution for demanding applications.
Our innovative sustainable solutions can help support Lithium battery production for electric cars and can provide sustainable power sources through water electrolysis to produce renewable green hydrogen production.

Magneto Anode experts continually research and develop electrolytic anode solutions to help solve electrochemical challenges and through our experience and expertise, we are uniquely positioned to enable the electrochemical industry to become more sustainable limiting the impact on the environment.