Water quality is an important consideration in all stages of medical device reprocessing with the primary objective of ensuring that surgical instruments and medical equipment are properly cleaned, disinfected and sterilized. Various minerals and contaminants commonly found in tap water can adversely affect this process. This can lead to the following consequences occuring during the central sterilization process:
Instrument pitting/corrosion/staining
Mineral scale build-up
Reduced detergent performance
Biofilm formation/increased microbial & endotoxin load
Contantaminant related issues can negatively effect the performance of sterile processing equipment. This translates to costly rework, replacement costs, and increased risk such as:
Repeat loads/cycles
Reduced longevity of instruments and medical devices
Reduced performance and longevity of reprocessing equipment
Potential patient risk due to biofilm formation/microorganism entrapment in damaged instruments
With over 40 years of experience in healthcare water system design and service, Evoqua offers comprehensive solutions to fit any requirements.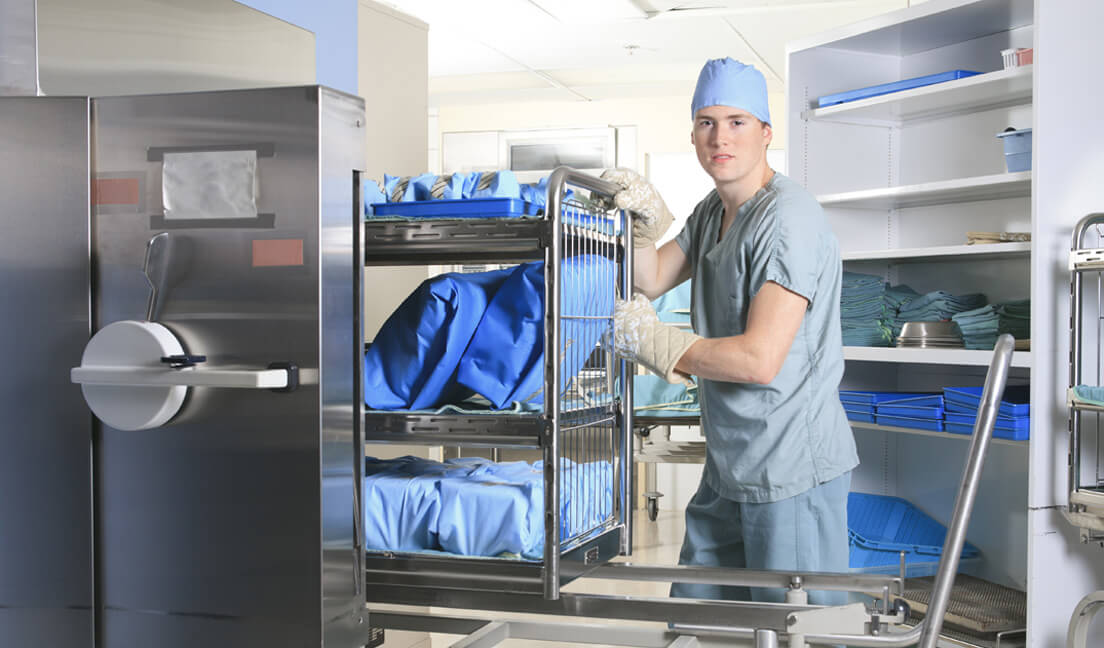 Water Purity Requirements for Medical Device Reprocessing
The Association for the Advancement of Medical Instrumentation (AAMI) publishes a comprehensive Standard called ST108 - Water for the processing of medical devices, to provide education and guidance to healthcare personnel. This document provides requirements for the quality of water that should be used in each stage of medical device reprocessing, for each category of medical device. Specifically, AAMI ST108:2023 includes the following information:
Quality of water needed to appropriately clean, rinse, disinfect and sterilize medical devices
Definition of water types based on hardness, pH, microorganism levels, endotoxin levels and other characteristics
Annexes with technical details pertaining to water treatment and monitoring
Solutions to Meet Water Purity Requirements
Evoqua offers comprehensive solutions specifically designed to produce water that meets ANSI/AAMI ST108:2023 - Water for the processing of medical devices1. Evoqua's Vantage® SPD Solution delivers the quality and quantity of water you need to optimize your process, as well as the data reports2 to back it up. The system utilizes a combination of pretreatment, reverse osmosis, ion exchange, UV light and final filtration – coupled with digital remote monitoring. This allow your department to demonstrate that your water quality is consistent, and your water purification system is operating correctly.
The new Vantage® ASC Solution was developed to meet the unique needs of Ambulatory Surgery Centers and small hospitals. It delivers the same water quality, reports and digital monitoring as the Vantage SPD in a pre-engineered, packaged system designed for lower flow rates.
For even more peace of mind, all Vantage® SPD and ASC systems are available with Evoqua's revolutionary Water One® services program. Evoqua's Water One® services allow customers to focus on their core business while Evoqua takes responsibility for the maintenance and performance of their water treatment system.
Benefits of Water One® Services include:
All-inclusive service, including consumables and replacement parts
Reliable water quality and quantity to meet your application needs
Maximum system uptime and operational efficiency
Predictable budgeting with simple, flat-rate billing
Monthly water system performance reports and access to real-time system monitoring
1 "Critical Water" quality as defined in ANSI/AAMI ST108:2023, Table 2 - Categories and performance qualification levels of water quality for medical device processing, and Table 4 - Water quality monitoring.
2 Data reports available when purchased in conjunction with Evoqua's Water One® services program.